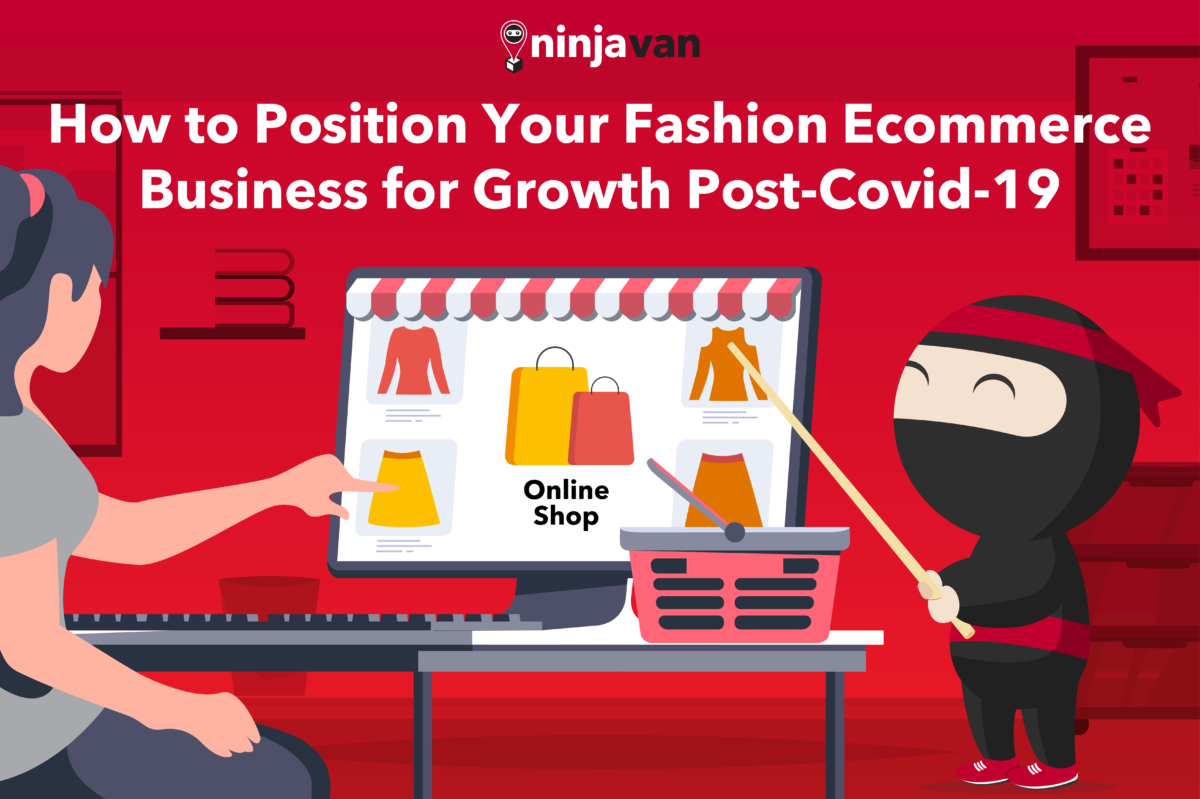 How to Position Your Fashion Ecommerce Business for Growth Post-Covid-19
Covid-19 propelled ecommerce businesses and are profitable more than ever. But now is also a good time to future-proof your online fashion business.
Covid-19 has placed ecommerce at the forefront of retail in Southeast Asia. According to the e-Conomy SEA 2020 report by Google, Temasek, and Bain & Company, the pandemic has accelerated the adoption of ecommerce business model, leading to a 30% rise in new digital services users in the region. These are consumers that had previously not used or signed up for digital services but did so because of stay-at-home restrictions.
The same holds true for ecommerce laggards like the Philippines where, let's face it, online selling and shopping only really became a thing in the last 10 years. In this "mall country," the pandemic has dealt a massive blow to the retail sector. Between February and July of 2020, it's estimated that visits to brick and mortar retail establishments fell by 55%.
And as Covid continues to put parts of Metro Manila and the rest of the Philippines under some form of quarantine, Pinoys have had no choice but to skip the malls and turn to online marketplaces like Lazada, Zalora, Shopee — the country's biggest names in ecommerce. True enough, App Annie's data shows that Filipinos flocked to online stores, with shopping apps getting a whopping 53% increase in usage — the largest increase in Southeast Asia.
In other words, pandemic or not, Filipinos will always be prolific shopaholics *insert K-pop fancam here*.
And with so many of us spending most of our time indoors, what else can you do other than indulge in some retail therapy?
Image Source: Sskait
What's more, the move to online shopping is likely to stick around in a post-pandemic world. The e-Conomy SEA 2020 report notes that 94% of new digital service consumers intend to continue with ecommerce and other digital services after the pandemic.
If you're the enterprising type, you're probably wondering how to get in on all that action. The key is to position your online fashion store to take advantage of the accelerated growth of ecommerce shopping.
Best practices for positioning your fashion ecommerce business
The landscape of ecommerce in the Philippines is constantly growing and evolving alongside the country's neighbors in Southeast Asia. There are, however, several variables and developments worth considering when planning in a post-pandemic world.
Pick an ecommerce business model
The Philippines tends to lean conservative when it comes to business practices. This is especially true with fashion retail, where brick-and-mortar shops in malls have been the prevailing business model for decades.
The pandemic has changed all of that. However, it's not enough to simply open an online store and hope that if you build it, customers will eventually come. You need to pick a particular business model that's scalable, matches your product, and aligns with your target audience.
Consumer-to-consumer (C2C)
The C2C model is the gateway for new online sellers, enabling them to set up shop on places like Facebook and Instagram for free.
Image source: BF HomeSarap
In the Philippines, Facebook groups like BF HomeSarap saw tremendous growth during the pandemic, serving as hubs for buyers and sellers in specific communities and barangays. Founded in 2019, BF HomeSarap started as a group for food sellers in BF Homes Parañaque but has since expanded to other neighborhoods and spawned separate groups for sellers of non-food items, clothing, and general merchandise.
Fashion micro-entrepreneurs have also taken to Instagram to post photos and videos of their items, linking their wares to their stores on Shopee and Lazada. You'll find some examples of C2C stores below.
Image sources: DOUBLEPLUSGOOD, Stitch it by: J&C, and @saga_armoire
The C2C model is typically limited to smaller sellers and micro-businesses that tend to deal with smaller and less frequent deliveries. Still, it's a good idea to look for an ecommerce logistics partner that can accommodate on-demand and scheduled deliveries.
For instance, Ninja Van provides prepaid packaging and flat-rate shipping fees for C2C sellers on social media. When sellers are ready to grow their operations, Ninja Van's services can scale to the enterprise level.
White labeling
White label or private label products are generic, mass-manufactured goods that are sold to resellers or distributors, who then customize them with their logo or brand colors.
White label products have multiple benefits:
They're ideal for sellers looking to capitalize on trendy products (e.g., eyewear, accessories).
They're great for starting a business quickly with little upfront investment.
They're ideal for sellers with no resources for R&D and manufacturing.
They allow sellers with a personal or influencer brand to leverage their image with personalized merchandise.
They can be ordered and packaged in bulk on demand.
Although once associated with low-quality and cheap products, white labeling is a tried and proven strategy in the Philippines used by companies like Watsons — one of Asia's largest health and beauty retailers.
Image source: Watsons Philippines
Online fashion marketplace Zalora also has an in-house line called ZALORA Basics, made for "those who want the best of comfort, movement, and versatility."
Differentiation is the key to winning with this model. Your product branding and marketing need to be on point to stand out from other sellers carrying the same products. Case in point: in 2020, Zalora unveiled a capsule collection of sustainable items under its ZALORA Basics line made of TENCEL™ fibers.
Image source: ZALORA Basics
Dropshipping
Dropshipping is a retail fulfillment model where a store orders items from a third party (e.g. a wholesaler), which then ships these products directly to the customers that ordered them.
This model gives sellers the freedom of not having to keep inventory and pay for warehousing costs. All you need to do is focus on finding reliable suppliers, setting up your business, promoting your online shop, and making sure you provide an excellent shopping experience to your customers.
When setting up a dropshipping business, most sellers immediately think of Chinese suppliers. But note that you can also take advantage of ASEAN Free Trade Agreements and source your items from other countries in Southeast Asia. This is great for sourcing hard-to-find products in the Philippines such as trending cosmetics — remember the hype around Aztec Secret Indian Healing Clay and how you could only get it from Healthy Options?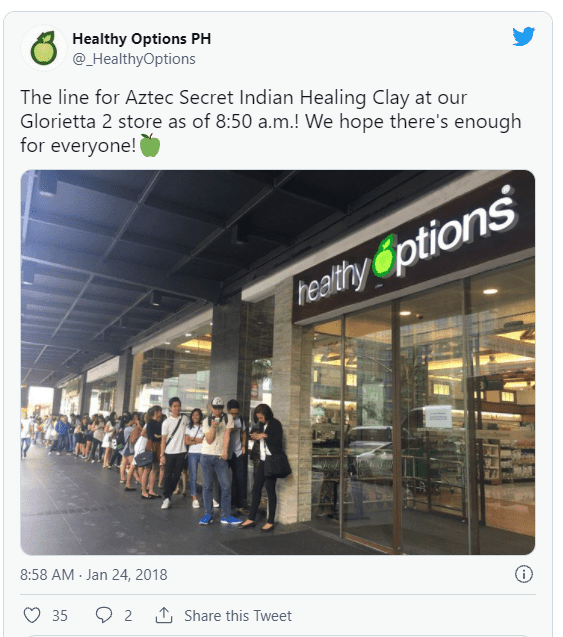 Services like Ninja Direct help online sellers by consolidating different suppliers and brands from different countries in one platform. With Ninja Direct, Ninja Van buys your items for you and takes care of all your shipping needs. 
Get creative with marketing
With Filipinos spending so much time on their smartphones, memes have become the currency of viral marketing in the country. The more meme-able your marketing strategy is, the better. What you would consider "old school" names like Orocan and RC Cola among many others have reinvigorated their brands with offbeat, Kafkaesque ads.
Notice how the RC Cola ad's YouTube title completely goes against all conventional wisdom when it comes to SEO and searchability. Playing around with memes and offbeat ads is about authenticity and not trying too hard. The Angkas marketing team is particularly good at this.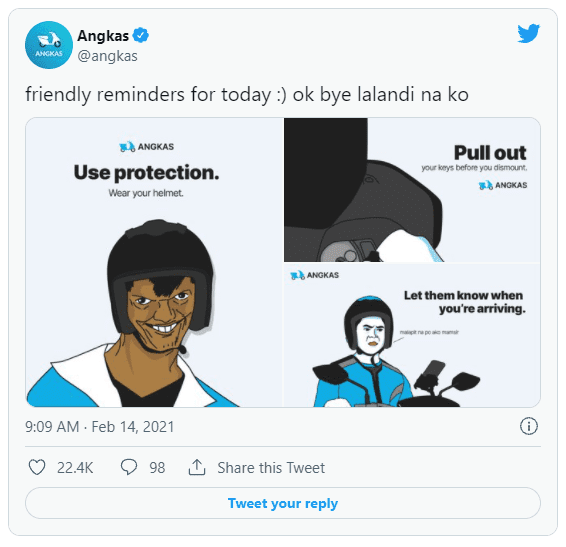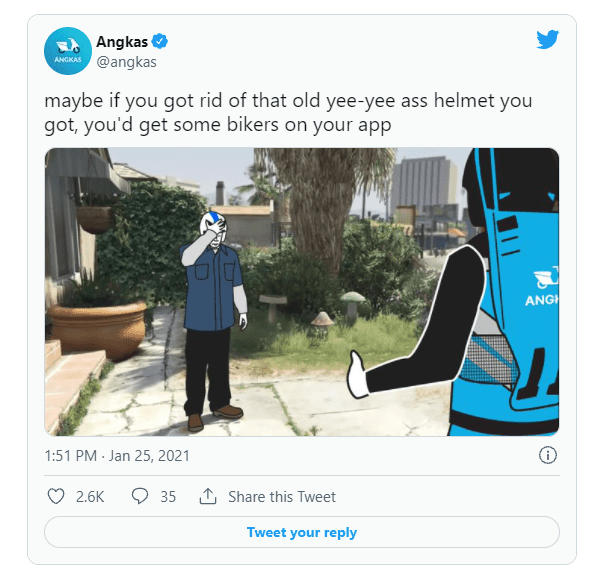 Take care not to be too ham-fisted when experimenting with your marketing messages. The last thing you want is for your brand to be r/FellowKids material.
Image source: The Verge
You can also leverage TikTok for your online store's organic content marketing. TikTok isn't just about trendy dances and memes—it's home to a young and engaged audience that's more discerning than ever about their shopping choices.
Clothes sellers can make haul video-style TikTok videos, like on Shopee's page, showing how your items look and fit in real life. If you design accessories, walk viewers through your design and manufacturing process.
Take advantage of social media shopping features
Image source: DataReportal
The Philippines is the social media capital of the world for a reason. As a mobile-first country, almost everyone has a smartphone. And almost anyone with a smartphone is on Facebook, Instagram, or Twitter. It's estimated that there were around 89 million social media users in the Philippines as of January 2021—a 22% increase (16 million) from the previous year according to the Digital 2021 report by We Are Social and Hootsuite.
Fortunately, social media networks have made moves to bridge the gap between product discovery and shopping—all without having to leave the app. In 2020, Instagram rolled out Instagram Shops, allowing users to visit a brand's Instagram profile and browse products, explore collections, and buy items within the Instagram app.
Local retailers like Sole Academy, Commonwealth, and Beyond the Beach have since taken advantage of the feature, uploading their collections on Instagram.
Embrace social responsibility
Gen Z and millennials, critical cohorts for fashion merchants, have strong preferences for brands that promote causes they care about, such as sustainability. As early as 2019, McKinsey's State of Fashion report identified the rise of "woke" consumers as one of the top shakers in the global fashion industry.
In the Philippines, vloggers like Shaira Luna are helping open discussions about the environmental impact of the fast fashion industry and sharing their ukay-ukay or thrifting hauls.
Local fashion brands like Candid Clothing and Eve The Label have also released lines with items made from sustainably sourced and organic fabric.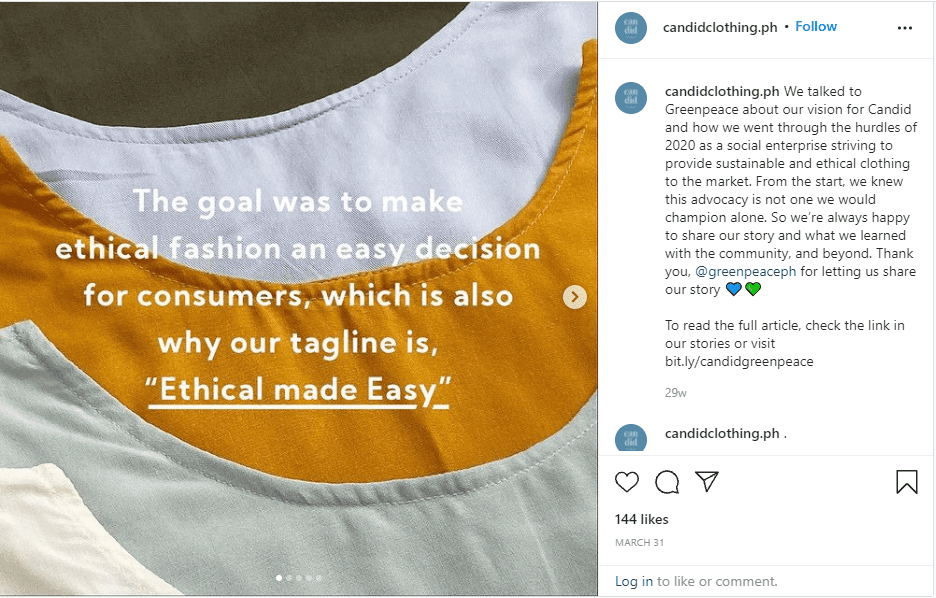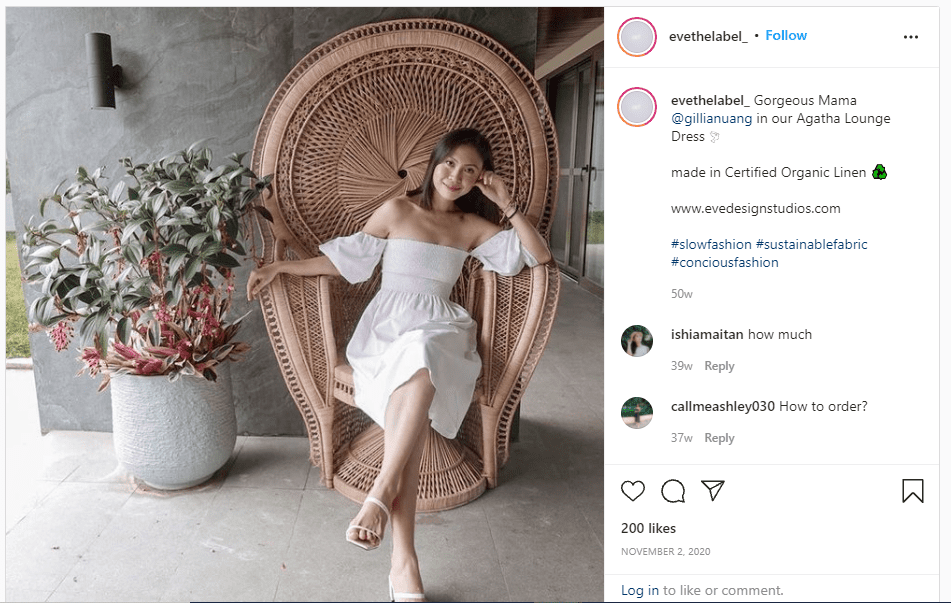 Other social movements are just as important. A July 2020 report by GlobalWebIndex showed that 4 in 5 people believe that brands should take action to align themselves with the Black Lives Matter Movement (BLM). Perhaps most interesting is how the survey also found that Filipinos had above-average support for brands that took action in response to BLM.
Join pop-up markets
Even in an omnichannel world, fashion retail will always have a physical element that ecommerce can't fulfill. People still want to feel fabrics, check the fit of clothes and shoes, and just see what an item looks like with their own eyes.
In other words, brick and mortar retail is unlikely to go away in a post-pandemic world, more so in the Philippines where malls aren't just shopping centers but also lifestyle hubs. This isn't to say that online sellers need to open a physical store. But they can take advantage of pop-ups with other brands.
In Singapore, brands like Trybe Active joined weekend pop-ups with other ecommerce stores to boost sales during the pandemic. It's a tactic that's being considered in the Philippines as malls in select areas welcome back shoppers.
AyalaMalls is planning collaborative projects with local communities through pop-up stores to showcase local talent and design. Not to be outdone, SM Supermalls is also looking to welcome shoppers with a BTS pop-up store in SM Megamall.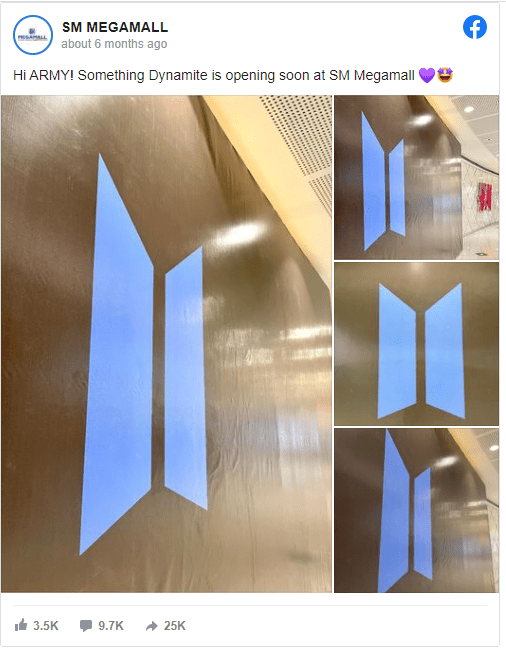 Sweeten the pot with free shipping
Free Shipping is a huge draw for online shoppers in the Philippines. A 2020 Twitter report on Filipino online shopping habits found that free parcel delivery was the leading driver of purchase decisions, compelling 67% of Pinoy shoppers to make a purchase. This topped other drivers like whether or not a brand champions advocacy (55%), being able to pay with cash on delivery (52%), and discounts (50%).
Shopping holidays like 11.11 (Singles' Day), 12.12, and the Lazada Birthday Sale among others succeed not just because of bargains and offers but also free shipping. In fact, when Lazada stopped offering free shipping for orders in Metro Manila back in 2018, it received so much flak that it eventually lowered shipping fees that same year.
All this makes it important to partner with a trusted courier services provider to preserve your margins while offering fast and free shipping to your customers.
Prepare for shopping holidays
If malls have payday sales, online marketplaces and ecommerce players have online shopping holidays, especially during the year-end shopping season. Take advantage of the opportunity to piggyback on the flurry of online shopping activity on days like 10.10, 11.11 (Singles' Day), and 12.12. Even the founding dates of marketplaces (e.g., Lazada Birthday Sale) are important shopping events to consider.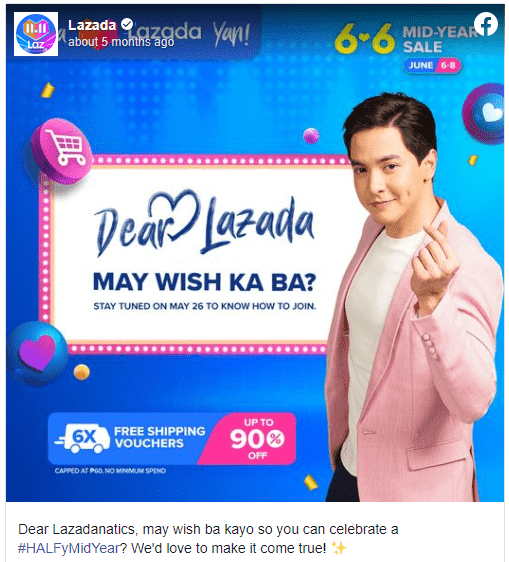 When eyeing for shopping holidays, be sure to begin planning months ahead of the event. Filipinos like to do their homework when making a purchase decision, performing up to seven online searches before doing so. This means that Pinoys have a longer customer journey, making it important to prime them with marketing messages well before your shopping event.
Prepare for a post-pandemic world
As vaccination rates start to pick up in the Philippines, a post-pandemic world is becoming more likely by the day. Despite the uncertainties ahead, now is a good time to do your due diligence and plan how to position your online fashion store for new shopping habits and established retail behaviors. Focus on what's under your control: your product, the shopping experience, and fast shipping made possible by a reliable last-mile delivery partner.