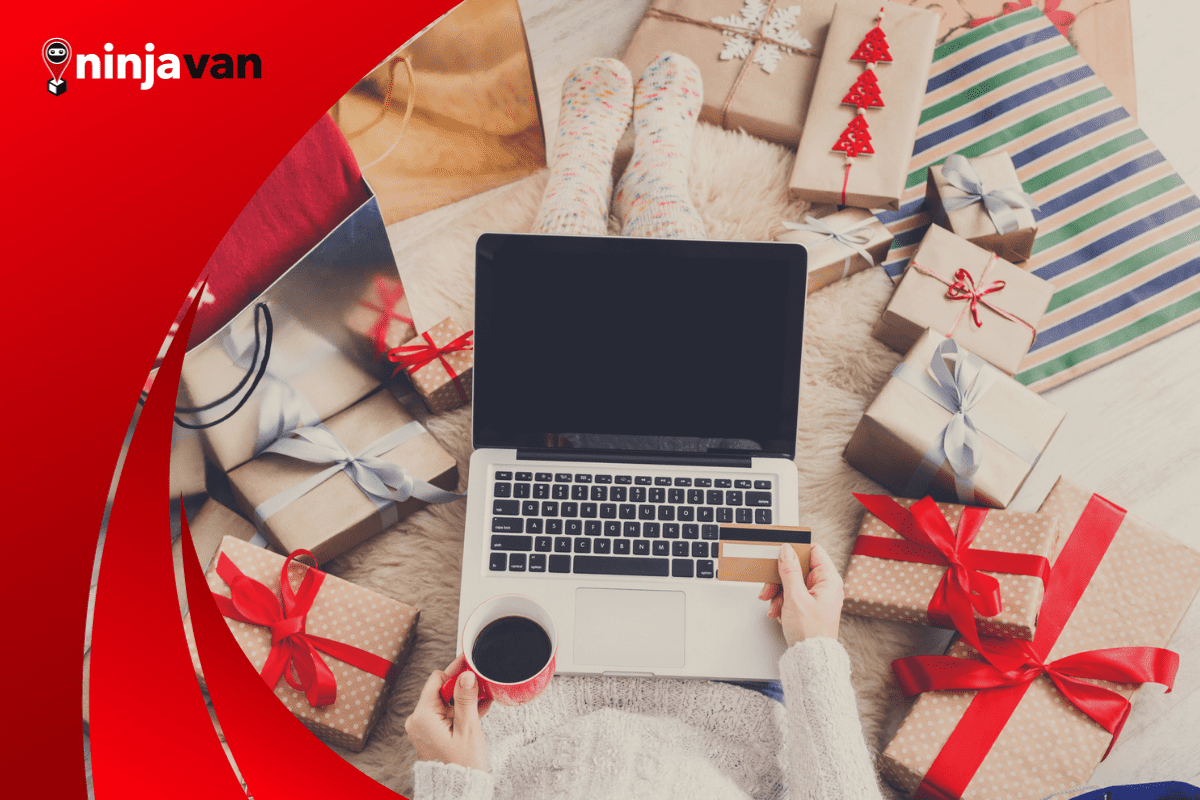 10 Steps to Get Your Online Store Ready for the 2021 Year-end Shopping Season
Are you ready for year-end shopping frenzy? Here's a 10-step guide to prep your online store for the busiest shopping season.
Historically, the last quarter of the year is when most Filipino online selling businesses make the most sales, thanks to double-digit shopping events like 8.8, 9.9, 10.10, 11.11, and 12.12. By now, most Pinoys are already in a Christmas-y mood, so you better make sure you're there when shopping activity starts to pick up.
With more and more Filipinos shopping online — ecommerce grew 55% from 2019 to 2020, and 37% of all digital consumers were first-time users of such services — you can be sure the season is going to be crazy. You'll still get your last-minute shoppers, but many will be planning out their purchases way before the end of the year. They're probably already window-shopping by now, checking out upcoming promos, and timing their purchases to get the best possible deals.
Whether you sell through your own website, on online selling platforms like Shopee or Lazada, or on social media like Instagram or Facebook, preparing early is key.
Make the most of the last shopping season of 2021 and end the year strong. Here's how.
1. Prepare your storefront
Check that product descriptions are accurate and detailed enough for customers to make an informed decision. If you get this right, you'll also be saving yourself the trouble of needing to answer potential customers' questions stemming from vague, confusing, or incomplete product descriptions.
Double-check your inventory and make sure that information on item availability is up-to-date.
Make sure you're using high-quality photos, and that they showcase your products' best features.
If you're selling through your own website, make sure it works properly and looks good: 39% of visitors will leave a website if photos take too long to load or won't load at all; 38% will leave if they find a website unattractive.
Don't forget to test and ensure that your website can handle a surge in traffic. One of the worst problems to have this shopping season is losing many eager customers because of technical difficulties. What a waste! Do a stress test using any of these seven tools.
It's also important to plan your product prices. You can do this with the help of a spreadsheet, like the one in the photo below (click on the link in our infographic to access the full spreadsheet!). By listing down your cost, usual product price, and sale price, you'll be better able to track your profit margins per product. Our spreadsheet also has space for you to stay on top of sale period start and end dates, discount codes, and campaign types (is it a flash sale? are you doing cashbacks or giving out discount codes?).
Download our Year-end Sale Planning template here
2. Stock up on your best-selling products
What are your most in-demand products, the ones that always sell out? Make sure you have enough of these.
Aside from your top products, also sniff out up-and-coming trends that could lead you to your next most popular product. Read up on the latest beauty and fashion trends, for instance; check out what your competitors' customers are raving about; or be all techy and use data analytics (more on this below!).
Double down on promoting them. If you plan to sell these at discounted rates, let your customers and social media followers know early. This way, you'll get a head start on competitors and avoid drowning in the marketing clutter in the days leading up to major sale events.
3. Use data to understand sales trends
To get a better understanding of which products will sell and which won't, use data analytics. Check out tools like Google Trends or Better Lemonade Stand's Instant Product Evaluator Tool.
Google Trends is a free listening tool that clues you in on what people are looking for based on how often they Google a specific term; you could even compare different search terms.
Better Lemonade Stand's Instant Product Evaluator Tool is a handy website that evaluates your product based on 18 key criteria. Users receive a final score (total score: 100) and an analysis of their product's strengths, weaknesses, and overall "sellability."
You could also tap analytics to reveal your top sales channels. Where do you sell the most? Double down on selling there during sale season.
4. Cyberstalk the competition
Stalking doesn't need to be creepy. It pays to check what your competitors are selling, what their pricing looks like, and how they're engaging with their customers.
Visit their website and ecommerce shops incognito. On your computer's browser, go into incognito mode or open a private browsing session. On Shopee or Lazada, here's how to do it. Visit their social media pages, too. This will give you a better idea of what you're up against and will allow you to adjust accordingly.
Better yet, become their customer. Buy something from them and see what the experience is like.
5. Supercharge your promotions
Announce discounts and promos early to give your customers something to look forward to. As they say, "Daig ng maagap ang masipag (being early beats working hard)."
Check out these five promotion strategies that have been gaining popularity lately:
Don't put everything on sale — curate your sale items well or risk looking like you're just trying to get rid of unpopular items
Reward your fans — repeat customers, those on your mailing list—with additional discounts on top of sale prices
Give cashbacks
Offer freebies — could be a free gift or a shipping voucher
If you have brand ambassadors, start working with them early
6. Make the most of social media
About 65% of internet users in the Philippines go on social media to research brands, so it should go without saying that having an active social media presence is so important for any online selling enterprise.
Post quality content regularly on your platforms of choice and talk to your followers.
Maybe even explore TikTok if that's where your customers hang out (and if you have the self-confidence for it!). Create attractive graphics with simple and free tools, like Canva.
How often should you post? Here's a good rule of thumb from Hootsuite:
Between three to seven times per week on Instagram
Between one to two times a day for Facebook
Between one and five Tweets a day on Twitter
Local brand Linya-Linya, which sells t-shirts with witty prints, does social media well with their funny posts.
Float Swimwear's photos are also top-notch and communicate the brand's personality well.
But don't just focus on your own social media channels; be visible on others' pages, too. Consider engaging with influencers who are a good fit for your brand, and foster relevant, mutually beneficial brand partnerships.
7. Proactively engage your customers
44% of Filipino shoppers chat with sellers before making a purchase. As such, it's important to leave a good impression.
Keep it classy and respond promptly, politely, and cheerfully. Answer their questions thoroughly.
The year-end shopping frenzy could get crazy, so be prepared to chat with customers almost 24/7. Use the chance to cross-sell (NOT hard-sell) your products.
You can find more customer service dos and don'ts in our guide here.
8. Offer free shipping
Offering free shipping is one way to win customers and stand out in a sea of online selling businesses. It could also prevent "abandoned carts" — sometimes, customers intend to buy something but change their minds after seeing how much the shipping will cost.
Here are 7 ways to make free shipping work for you:
Free shipping for all items
Free shipping for purchases above a minimum threshold
Free shipping for certain products or product categories
Free shipping for members
Free shipping if the product is sent to a physical store
Free shipping for a limited time
Free shipping on return items
Read our guide to find out more on the above.
9. Pack your items properly
Seal everything and pack items tightly to prevent damage during transit.
A good rule of thumb is to have three layers of packaging:
the primary or innermost layer
the secondary layer, which is typically sturdier than the primary layer and helps protect the package from damage during delivery
the outermost layer, which has details about the package to help logistics providers sort items
Consider using eco-friendly packaging options if possible!
10. Ship orders out on time
Make sure to hand over your parcels to your logistics providers on time. Customers hate late deliveries and will let you know in their reviews! Actively managing customers' expectations is key. Because sale season is going to be super busy, shipping will definitely be delayed (trust us on this).
For reliable service, partner with trusted names in last-mile delivery, like Ninja Van!
To help you even further, we've prepared a complete CHECKLIST to prepare your shop for the year-end online selling frenzy! Download your checklist below:
Prep Your Online Selling Muscles
Stretch your online selling muscles, get a head start and make the most of the year-end online shopping frenzy by preparing early. By offering great products and a stellar customer experience, you'll be helping your customers end the year with their hearts — and their carts — full.
Featured image by Prostock-Studio on Getty Images