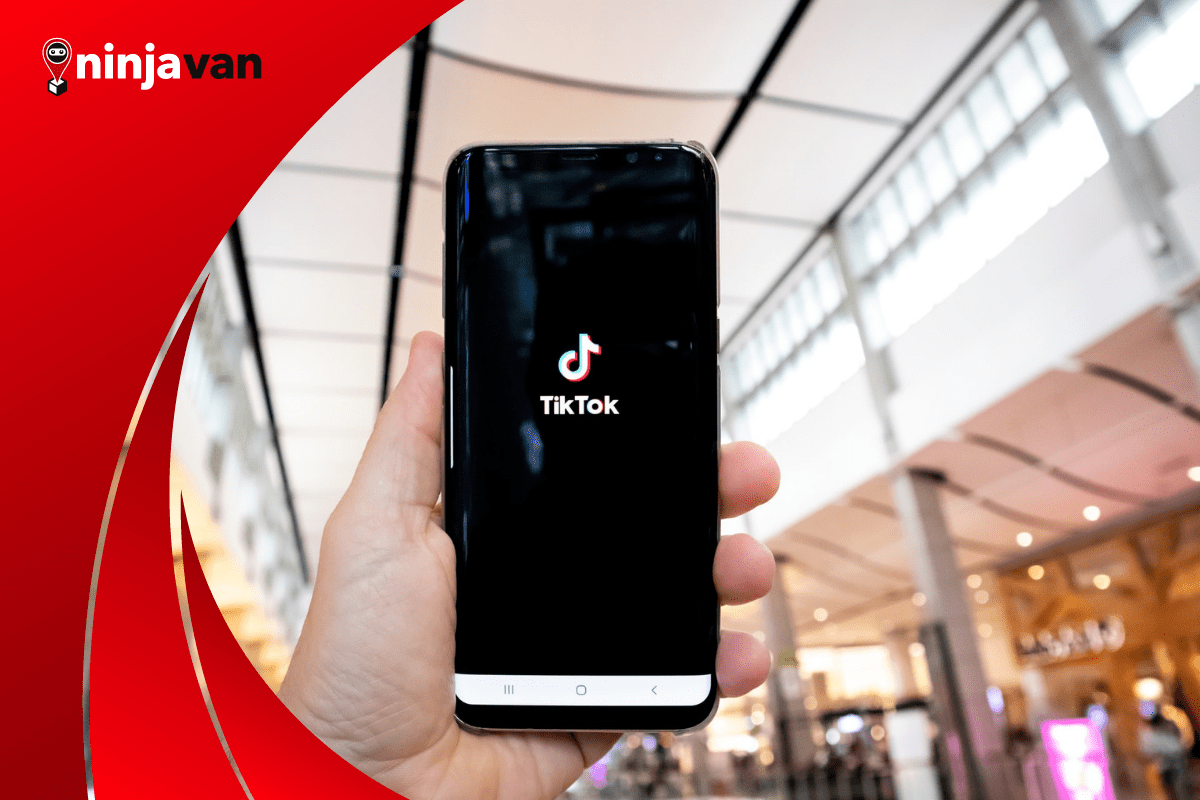 How to Start Selling on TikTok for Business
TikTok for Business promises to convert joy into brand engagement. Find out why you should be on this platform.
The TikTok takeover is real. Its unique short-form mobile format has made it the home for all things kwela and viral for Filipinos, from challenges to comedy skits to joyful dance-offs. And now there's Tiktok for Business.
Due to our large mobile-first population of young people and high social media usage rates, TikTok has seen massive growth in the Philippines, establishing the country as a key market for TikTok in Southeast Asia — beginning at 6 million users in 2019, to 35 million active users as of 2021.
With these numbers, it's not just influencers who should notice, but entrepreneurs as well.
In the recent "Unlock Joy at Scale", a talk in the Grow with TikTok Performance Series held last November 18, TikTok decision-makers and leaders talked at length about TikTok for Business, a range of services aimed at connecting brands and businesses with the millions of Filipino TikTok users.
Converting joy into brand engagement
The combination of TikTok's unique recommendation system and millions of engaged users turns the platform into a hard-to-miss opportunity for brands to expand their reach. Consider these stats about TikTok, and putting your brand on TikTok Business becomes a no-brainer.
Patok with young social media users: TikTok is already the most downloaded entertainment app in the Philippines. The majority of social media users in the Philippines are between the ages of 18 to 34 — TikTok's primary demographic group.
Video content more engaging and profitable: Watching online videos is the top activity of online users in the Philippines, with 99.4% of local users. 87% of video marketers reported that video gives them a positive ROI — an advantage for brands connecting with users on TikTok!
Super-localized content: TikTok encourages users to create relevant and local content, while still connecting to global trends.
Growing partnerships: TikTok is also teaming up with other platforms to extend its reach in the Philippines. Last year, TikTok announced its collaboration with Shopify in the Philippines to help merchants create and run campaigns for TikTok's highly engaged community.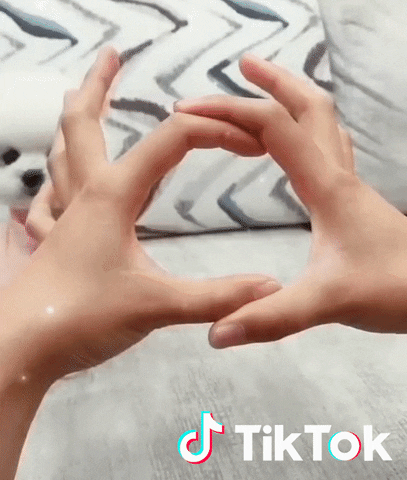 "Essentially, we convert joy into reach and engagement at scale," explained Amar Koul, TikTok Regional Partnerships Manager. "And at the end of the day, that empowers action."
If you're already on TikTok, great — it's now time to get your brand in on the fun, too. TikTok for Business allows both large multinational corporations (MNCs) and smaller businesses to reach their ideal audience on the app, where branding can feel more organic and less like an imposition to users.
"Almost half of our TikTok community discover new brands and products while they're on the app, and almost half of us feel that the advertising is really less disruptive," Amar told the audience. "The reason is that it's very native to the environment, and making sure that the asset that you produce out there is in line with our 'for you' feed."
Reaching out with Business Account and Creator Marketplace
TikTok for Business is made up of a few powerful but easy-to-understand interlocking parts.
TikTok Business Account
This is your brand's official presence on TikTok, the base from which you can build great connections with your audience. "It works like any other social media platform, where you're able to add all your business information and start posting content," Amar explained.
The business account also gives you access to powerful analytics tools, like real-time metrics on Content Performance and Insights into your followers. "You're able to view where they're from, what they're watching, what they're enjoying, what they're consuming," Amar told the audience.
"And then from there, you're able to understand what your traffic looks like, where you want to optimize and what future content you want to conceptualize for your traffic to grow as well."
TikTok Creator Marketplace (TCM)
Key opinion leaders (KOLs) and influencers helped 3 out of every 5 TikTok users make a successful purchase decision. TikTok for Business makes it super-easy to put them to work for your brand, with a search engine for KOLs.
"Essentially, you're able to identify, shortlist and also engage KOLs and influencers that are very proficient within the TikTok ecosystem," Amar explained. "You can engage them with your next campaign or the next organic content that you want to push out."
Powerful Marketing Tools: TikTok Ads Manager and more
Connecting brands with the millions-strong, hyper-engaged TikTok userbase can be tricky — but new tools like TikTok Ads Manager and Pangle can bridge the gap. TikTok's tools can support advertisers through every step of campaign building, whether they're introducing new brands or finding new audiences for established brands.
TikTok Ads Manager
This is TikTok's one-stop, super-sulit solution for advertising campaigns. Brands can use Ads Manager to create and post video ads with a flexible budget, even adapting existing creative assets to easily run ad campaigns.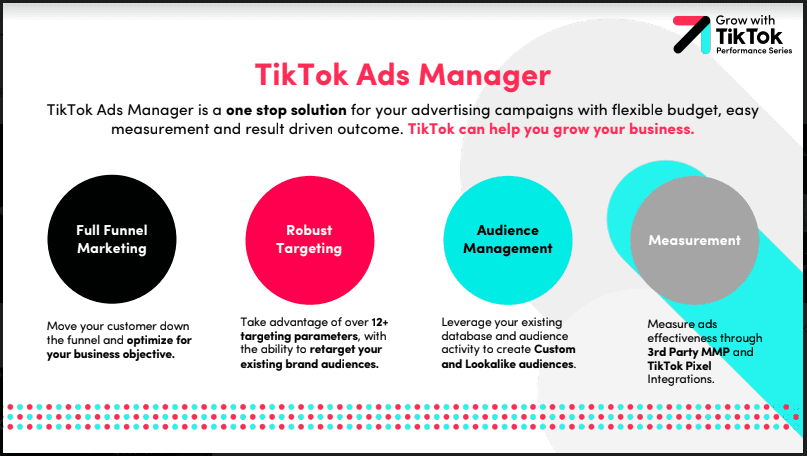 Advertisers can also track the progress and impact of their campaigns, using TikTok Ad Manager's measurement and analytics tools, including third-party mobile measurement partners for app developers, and TikTok's own pixel for website tracking.
Creative Tools
Ads Manager users can also tap TikTok's wide range of Creative Tools, including automated "Smart Video" that automatically puts together video clips and music to generate beautifully edited videos for your brand. TikTok offers a handy workflow that helps creators decide which Creative Tool to use: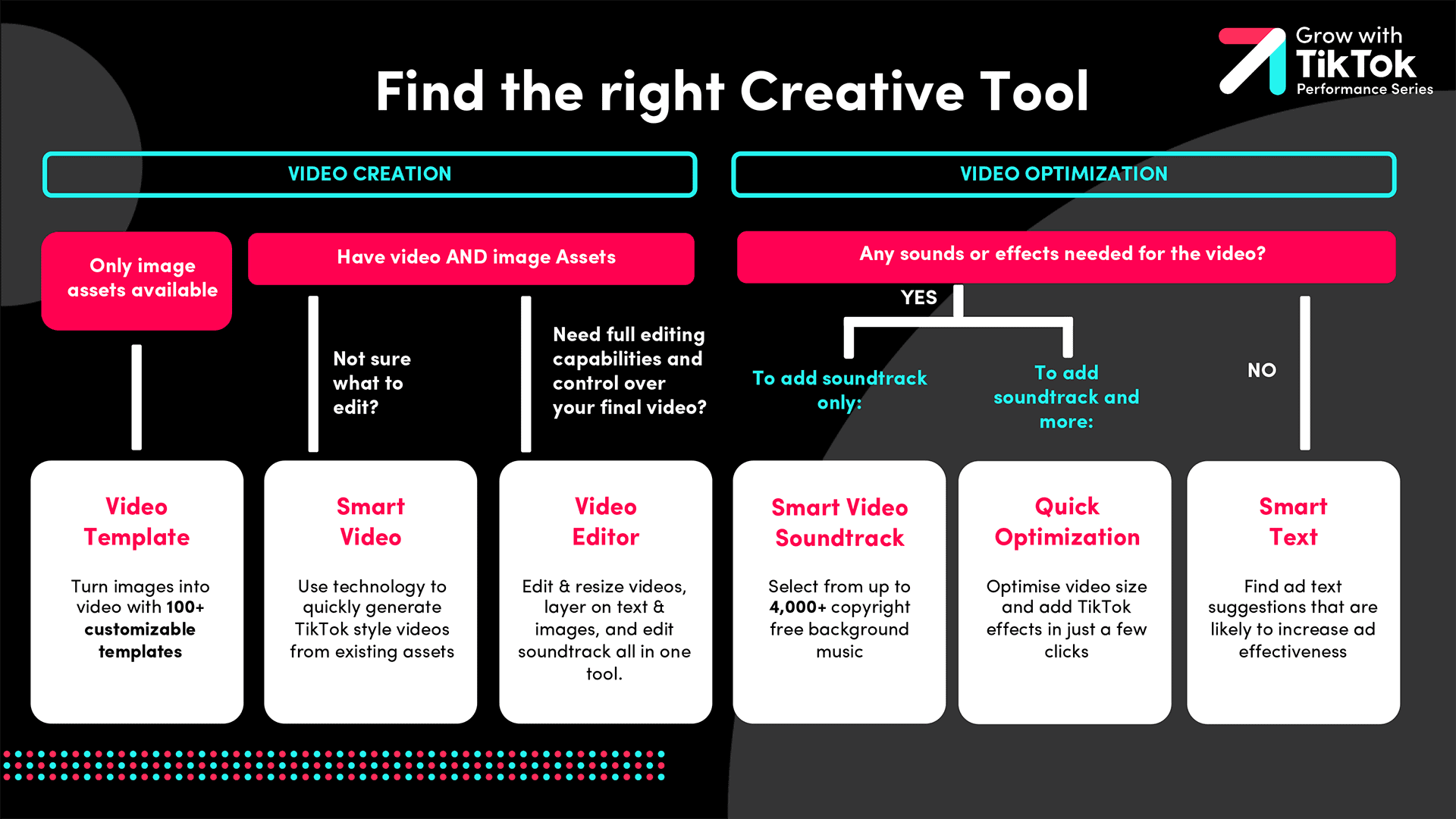 Pangle
TikTok's video advertising platform allows brands to extend their reach beyond TikTok to a wider network of premium mobile publishers. "Within this ad network itself, we have got about 400 million daily active users," explained Sylvia Kok, Account Manager for TikTok's Client Solutions.
"We also offer different, unique ad formats that allow you to engage with your audiences."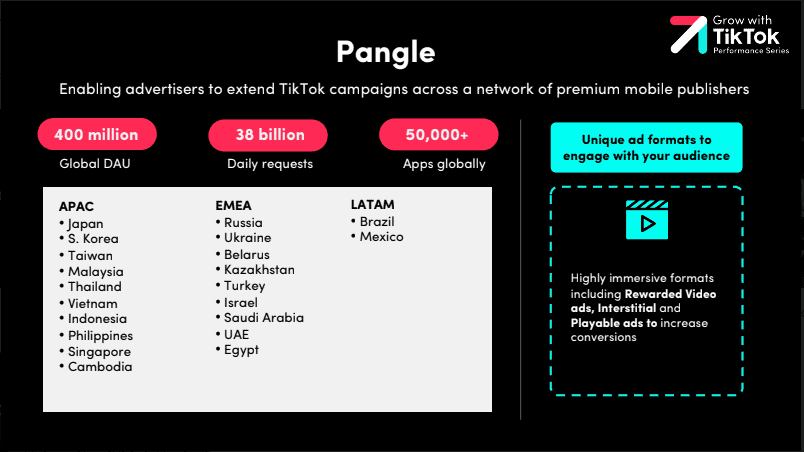 TikTok for Business: setting up your account
Getting started with TikTok for Business is just as easy as setting up your own TikTok profile, with a twist.
Step 1: Just download the TikTok app from the Apple App Store or Google Play store, then create a new account. Enter your email address, your password, and your desired username.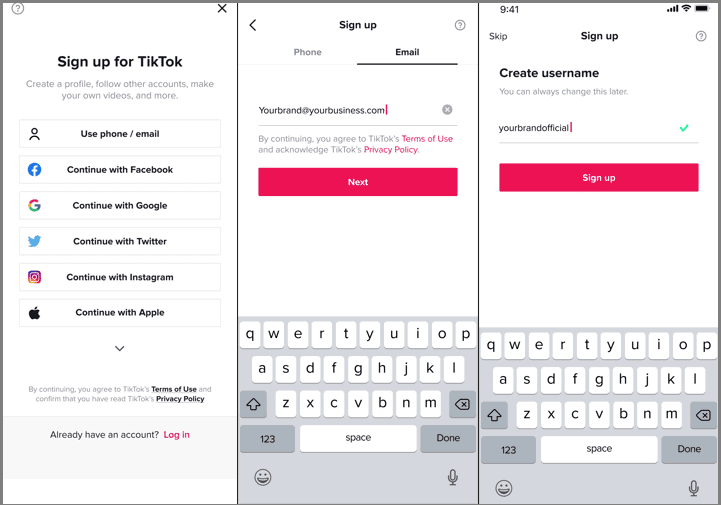 Step 2: Click "…" on the top right of the "Me" page, click "Manage account", and click "Switch to Business Account."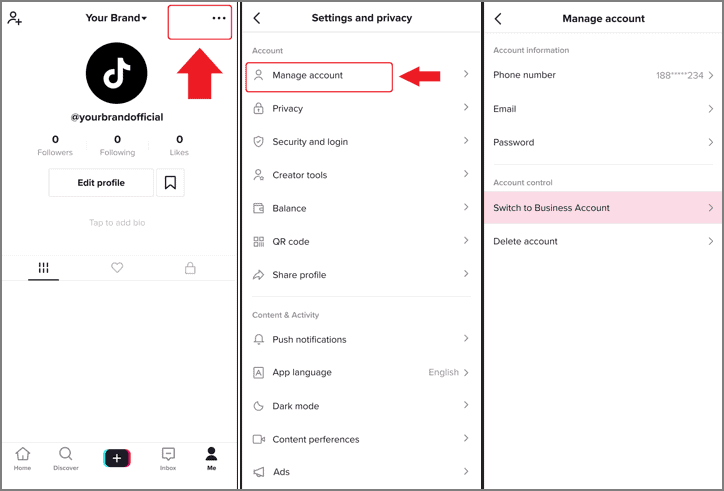 Step 3: Choose the category that best fits your business, so you can receive customized content, events, and solutions.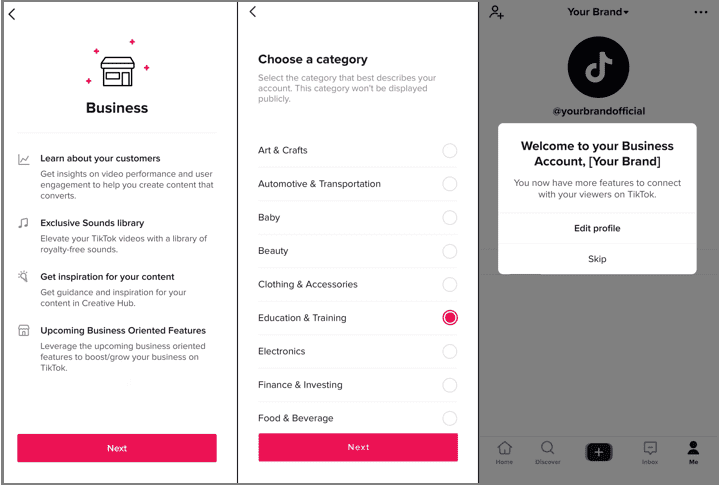 That's it! You can use your TikTok for Business account to post content using TikTok's creative tools, and share information about your products and services with potentially millions of engaged users.
Having a TikTok for Business account is only the beginning. "When you have your own organic account where you house all your organic content; you mix it with collaborating with our content creators, and then you supplement all of that with a full funnel approach," Amar explained. "That's only going to bring you success."
Screenshots courtesy of TikTok
Featured image by Olivier Bergeron via Unsplash