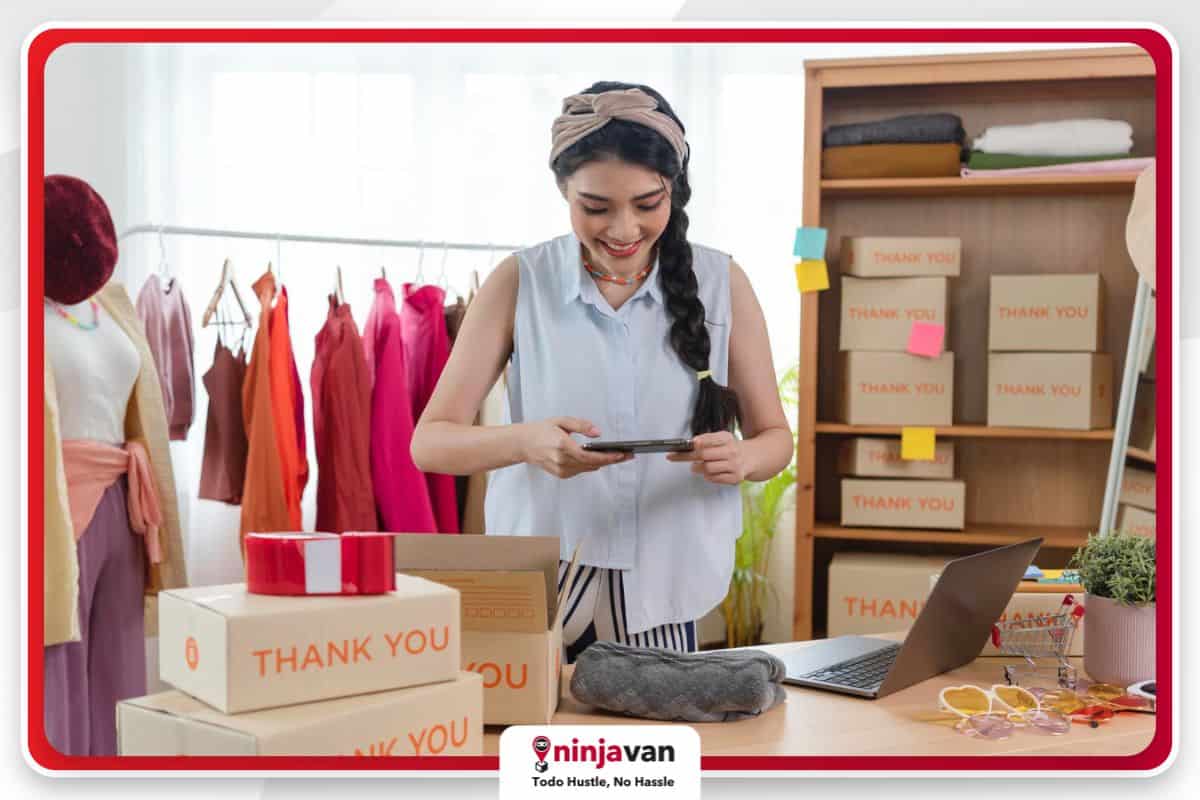 The Best Ecommerce Platforms To Start Your Online Store
You need the right location to open shop and yes, finding the right space or platform applies online too! (This article was updated on Aug. 4, 2023)
You've decided to set up your business online but realized there's a lot of platforms to choose from…
Location, location, location. As with any business, it's all about location. Even in the virtual space, it's all about finding the perfect real estate for your online store.
There are several online selling platforms to choose from, but which one will work best for your kind of business? We've checked them all out so you won't have to.
These are the best platforms for your online store
You need an online space that will match your business needs. No need to look elsewhere, we've collated the most popular online platforms for you.
You're welcome.
1. TikTok Shop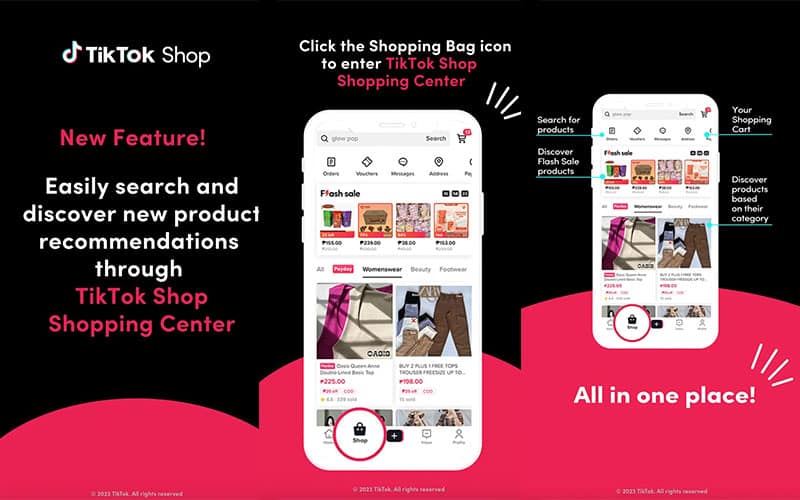 TikTok Shop is a relatively new online shopping platform that rides with the popularity of TikTok. It's fast becoming a strong ecommerce marketplace. Hashtags #TikTokMadeMeBuyIt and #TikTokBudol have been trending and enticing more people to shop on the platform.
While TikTok's user base is significant, however, it's skewed towards younger audiences with spending power. If your target demographic is older, you might not see as much success here.
That said, your TikTok shop shouldn't just be there to sell products. It should also actively engage with and entertain potential customers into checking out your business. This means regularly creating video content, doing live selling and staying with the trends.
You can add a 'Yellow Basket' when posting your videos about your products so users can directly buy from your TikTok Shop.
Pros
TikTok boasts a massive user base, particularly among younger demographics.
TikTok's short-form video format can lead to high levels of user engagement that can potentially drive more sales.
You can increase your brand's visibility and awareness by integrating your products into popular TikTok trends and challenges.
Partnering with TikTok influencers can help you tap into their established audiences, increasing your reach and credibility.
Cons
The platform is saturated with content, making it challenging to get noticed or stand out.
It can be challenging to convey complex messages or showcase certain products effectively with platform's short video format.
TikTok has limitations when it comes to including clickable links in videos.
Algorithm can changes affect how content is distributed and discovered.
Since it's a social platform, negative comments or backlash can result in a temporary ban, affecting your sales.
Costs involved
Transaction fees: 2% for every successful orders (tax inclusive)
TikTok advertising
Influencer collaboration
Recommended for
Fashion apparel and accessories
Health and beauty products
Organic food supplements
Check out: How Top Shippers Are Winning on TikTok Shop
2. Facebook Marketplace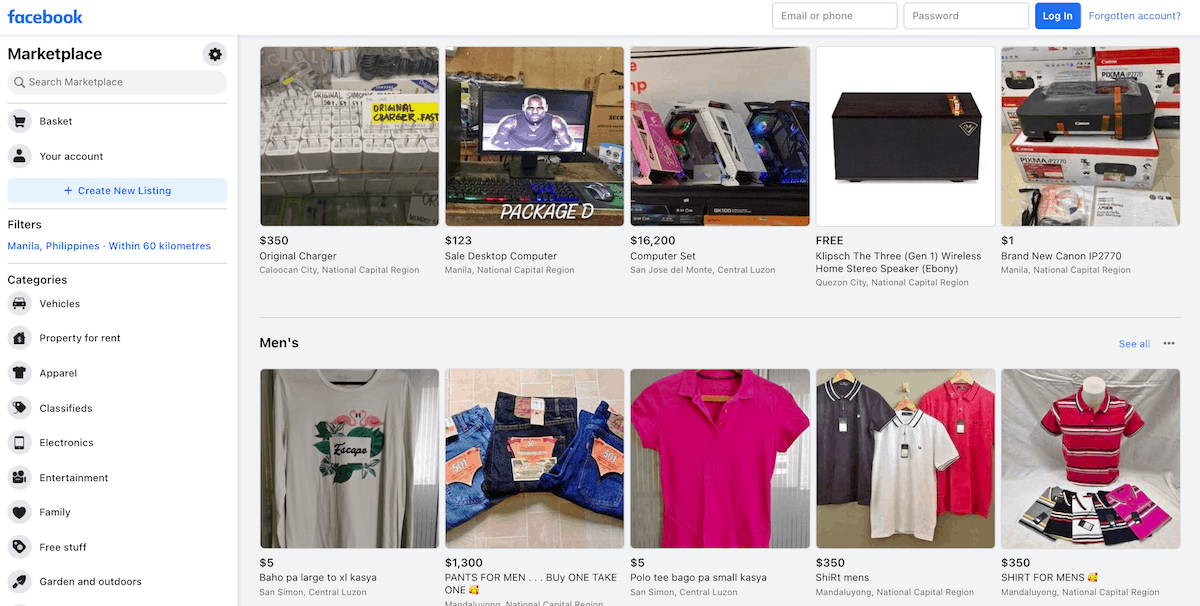 Facebook is still the most popular social media platform in the world. And it comes as no surprise that enterprising Filipinos have made it into an unofficial marketplace.
Seeing the opportunity, Facebook made it official with, well, Facebook Marketplace.
It is one of the biggest free platforms, where you can sell your products. Imagine tapping into 66.2 million adult Filipinos daily who can be your potential customers.
Pros
It's a platform within the Facebook app, so you don't have to worry about navigating a new interface.
Customers can inquire directly through Messenger. You'll have a separate Marketplace section in your inbox.
Most Facebook Marketplace shoppers use local slang or Filipino terms in their searches, so you don't have to worry about using English terms.
There's a buyer and seller rating system to help increase the brand page's credibility.
You have control over shipping costs since you're negotiating directly with the customer on their preferred shipping method.
If you're Facebook Live Selling, you can integrate tools like OtterLive to automate your live selling processes.
Cons
No in-app payment service, so you'll have to be extra careful with payments.
No buyer protection.
Your personal profile can easily be traced, so make sure to sell using your brand's business page.
Costs involved
Search boost
Sponsored ads
Recommended for
Electronic gadgets
Apparel
Home & living
Beauty products
Second-hand items
Fitness products
3. Lazada Philippines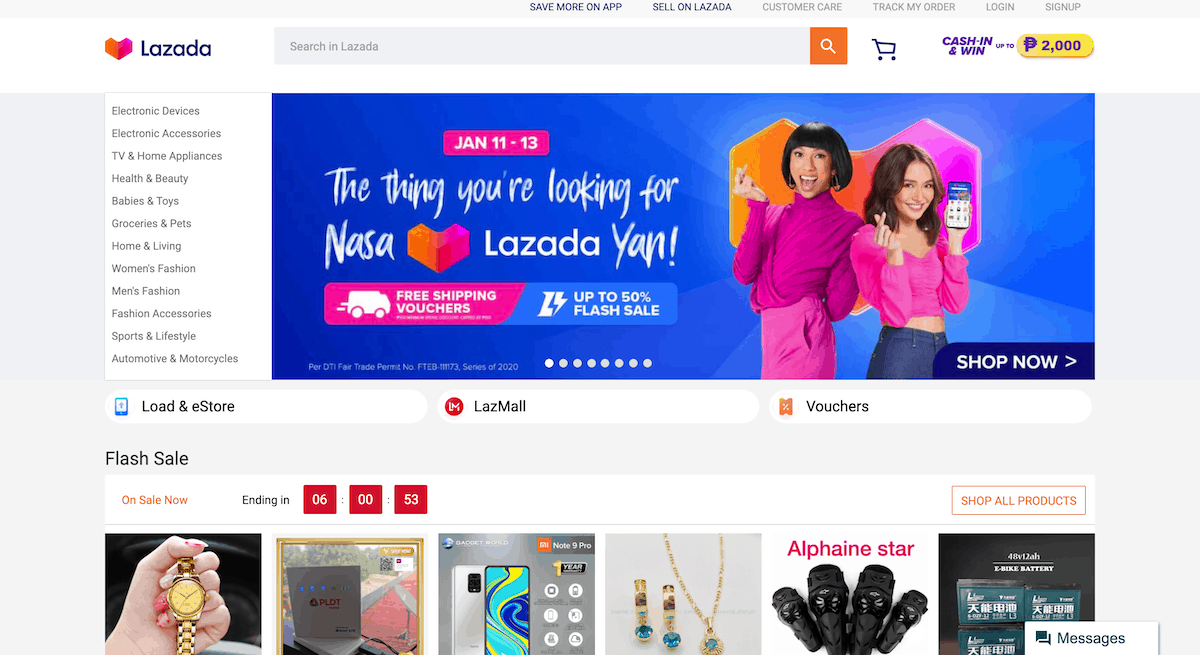 Lazada is one of the major online marketplaces in the Philippines. It gets millions of visitors a month. It's an arena for local and international sellers, independent and major retail brands. It is also one of the top-of-mind platforms among Filipinos when it comes to online selling.
Pros
Has one of the largest customer bases among online marketplaces.
Convenient in-house shipping service.
Provides merchants assistance on selling and advertising.
Cons
High commission rate.
High competition with much established brands.
81% of Lazada is backed by Alibaba so you'll have challenges competing with cheaper Chinese products.
Costs:
Commission rate: 2.5% to 4% (VAT inclusive)
Payment service fee: 2.24% of your deliveries
Recommended for
Electronic gadgets
Health & beauty
Home & living
Groceries
Pet needs
Apparel
Fitness products
Automotive & motorcycle essentials
Think Lazada might be for you? Learn more about it in this step-by-step beginner's guide.
4. Shopee Philippines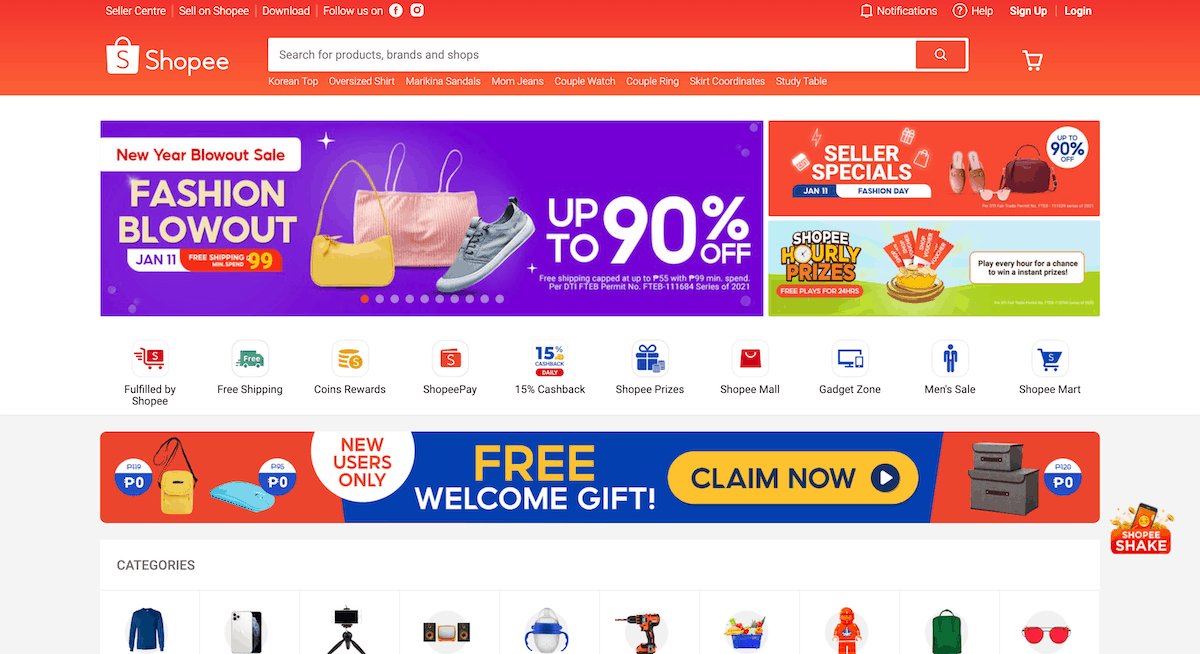 Shopee is another rapid-growing marketplace with a large customer base as well. Home to a large number of established retail brands and independent sellers, it is also widely associated by the buying public for its huge discounts, especially during the double-digit date sales.
Pros
High customer traffic.
Lower seller charges.
Shopee Guarantee: protects sellers from fraudulent transactions.
Wholesaling is allowed.
Provides free shipping for the first 5kg (really helpful if you're selling small items).
Cons
No separate seller app, so it might be confusing to manage your personal purchases and business
Costs
Commission rate: 3-5%
Transaction fee: transaction fee of 2% (+VAT) or 2% TF + (2% TF x 12% VAT) = 2.24%
Recommended for
Health & beauty
Home & living
Groceries
Pet needs
Apparel
Here's a step-by-step guide to set up your Shopee store.
5. Instagram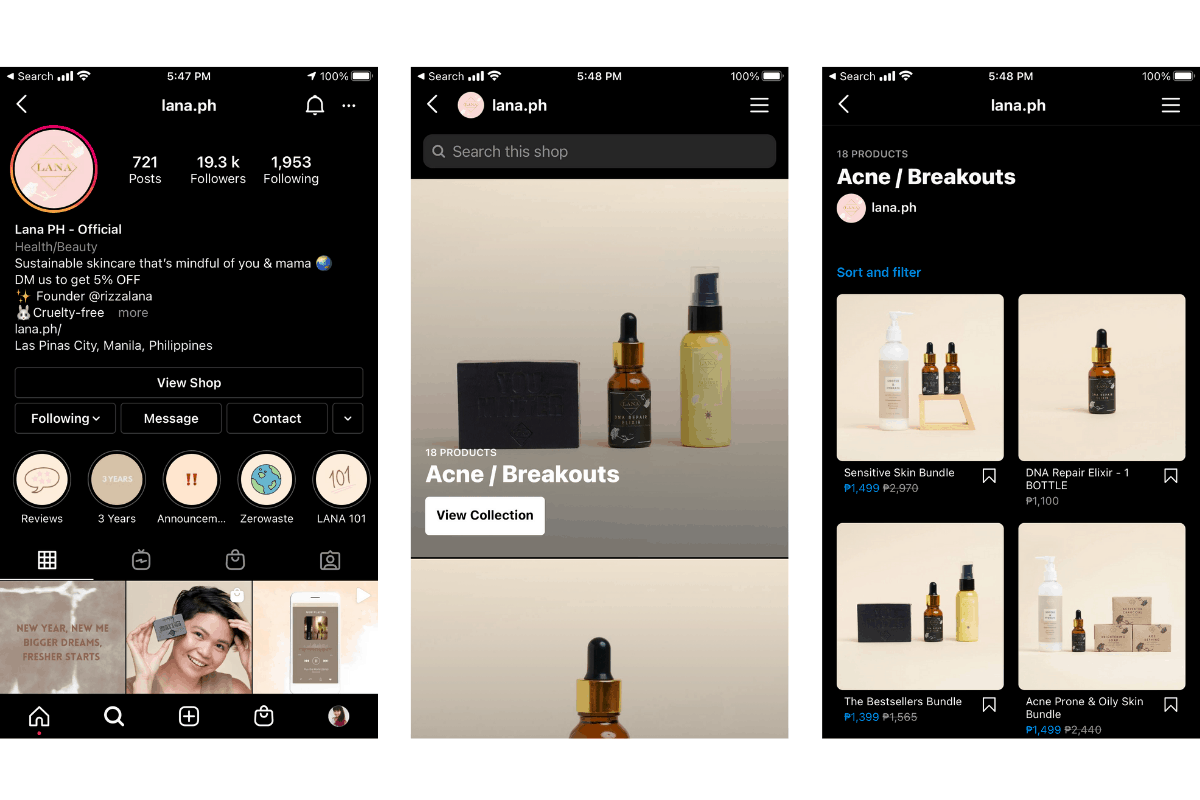 Long before Instagram launched its shopping features, Filipinos have already turned the well-curated photo and video sharing app into a selling platform.
Just look at how many items are for sale on your feed: artisan candles, third-wave coffee, gourmet anything, customized leather goods and even pet accessories!
While the check-out option is not yet available in the country, you can still create a business profile for your brand and put shopping tags on your posts or create your own shop and curate it with products you want to highlight.
Pros
Get insights into how your followers interact with your stories and posts.
Get real-time metrics on the performance of your promoted posts.
Allows you to add business information on your profile such as business hours, location, contact number, and email.
You have full control over shipping costs since you're also negotiating directly with the customer on their preferred shipping method.
Cons
No in-app payment service yet.
Customers still have to manually send your account a Direct Message to inquire and purchase instead of directly replying to a listing, so it could be a little hard to manage .
No rating feature, so it's harder to establish credibility.
Costs
Recommended for
Apparel
Accessories
Fitness products
Food
Beauty products
Home & living
6. Carousell Philippines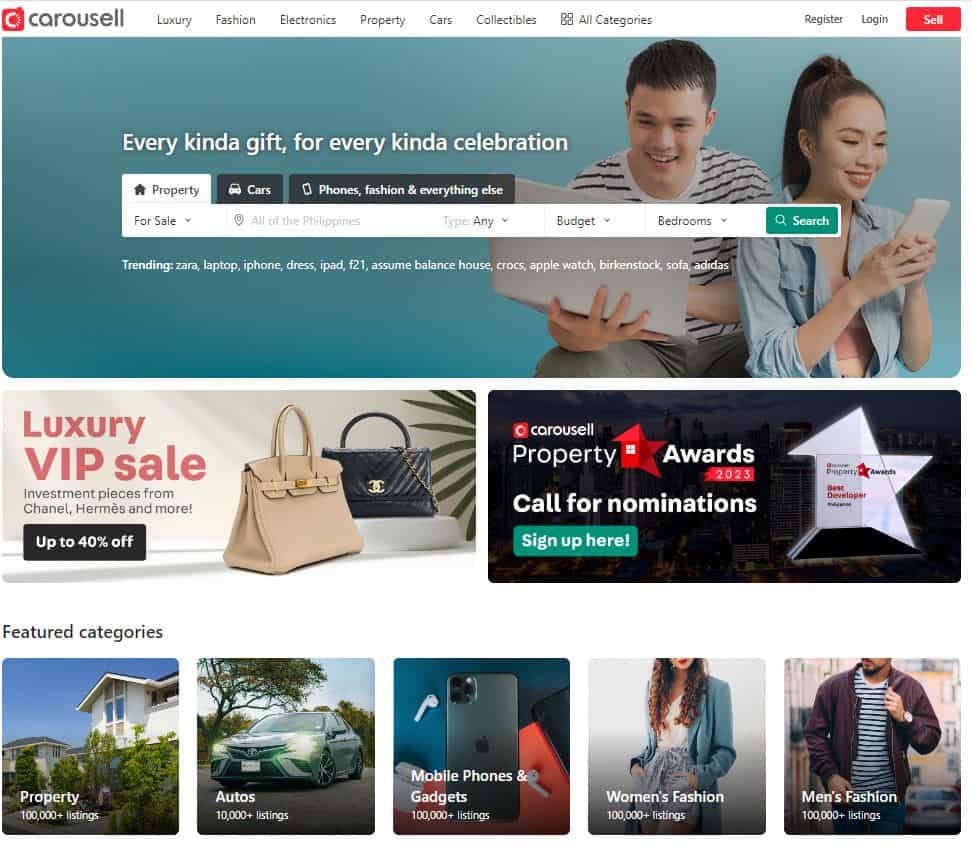 Carousell is a free selling platform. It stemmed from the Filipinos' penchant for second-hand items that range from furniture, clothes, shoes, and even household items. The app sells a wide variety of items that even includes houses and cars!
What started as a platform for thrifters is fast growing and getting noticed by big retail brands.
Pros
Creating an account and selling items is free.
Interested buyers can directly chat with you.
The app provides tips or assistance for sellers.
You also get to control shipping costs and negotiate shipping methods with customers.
Cons
Costs
Recommended for
Home & living
Cars
Property
Fashion
Mobile & electronics
Also read: What Are the Best Platforms to Sell Second Hand Items?
Choose a platform that suits your online business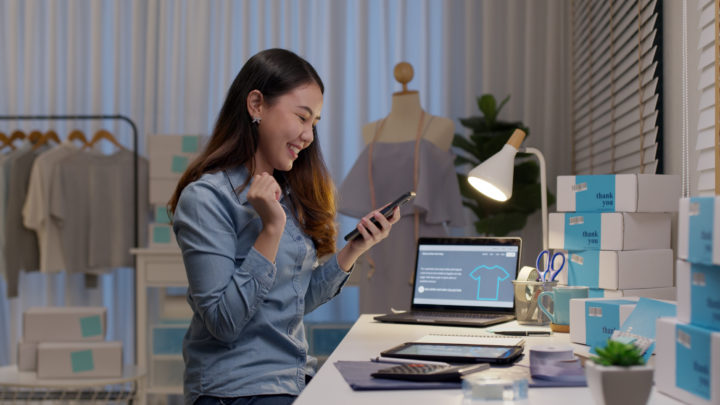 There's a wide range of online selling platforms to choose from when starting your online store. Whatever you choose, remember to maximize the platform features.
Give yourself time to explore and familiarize with the platform features so that eventually you can develop tricks of your own to be that rockstar seller!
More tips to boost your online business:
5 Techniques to Close More Sales in Your Ecommerce Store
Facebook Retargeting: How to Convert Your Almost-Customers
Instagram Marketing Strategies for Your Small Business