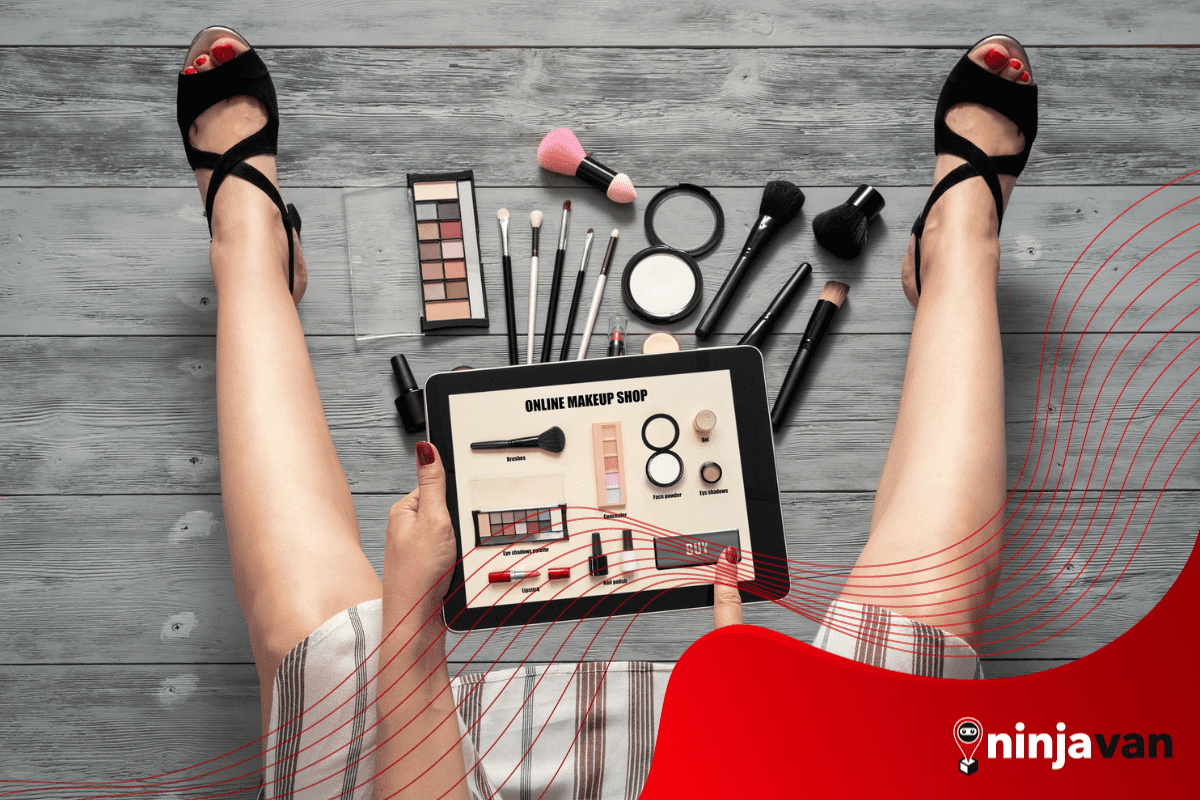 How to Sell your Beauty Products on Online "Budol" Groups
Selling on budol groups can help your online business in a big way. There are, however, strict rules to follow.
If you're not looking for "budol" on Facebook, are you even Pinoy? Budol has changed from its original, scammy meaning (remember budol-budol gang?) to its present definition as an online impulse buy, and Filipinos have gone crazy looking for budol on all the shopping platforms at their fingertips.
Facebook, in particular, has mushroomed with online budol groups that help shoppers share tips about good buys online. As good word-of-mouth increasingly drives purchase behavior among Filipino women (a recent survey found almost 90% were convinced to buy through good reviews), beauty and fashion ecommerce brands have sought good vibes from budol groups like Budol Besties, Subtle Budol Feed, and the Budol Group (TBG).
The best budol groups form tight-knit communities where members trust each other's recommendations for great-value finds; where admins have strict rules to prevent users from gaming the system; and where brands are strictly forbidden from direct-selling on the platform at the risk of getting kicked out.
But if you can't sell your own products straight in a budol group, then what's the point of joining one?
Sincerity and authenticity matter
First, you have to understand how much importance budol group members place on authenticity. Because brand communications are seen as inherently self-serving, budol members are more likely to be influenced by honest-sounding reviews from product users.
"The best word of mouth is really your actual customer na nakabili, na nag-share ng own picture nya," explains Rowena Wendy Lim Lei, long-time blogger at Animetric, skincare influencer, and co-admin of a 6,000-plus-follower budol group.
Rowena recounts an experience of one of their budol group members who had posted a heartfelt, personal experience of using a pricey Korean skincare brand. An affiliate link to Shopee was posted almost as an afterthought; Rowena heard back from the member that she had tracked over PHP50,000 worth of sales from that single post alone!
"And it's mahal, ha, it's not mura!" Rowena says of the skincare brand. "It goes to show, for me, [it's easier to influence the purchase decision] 'pag alam ng tao na totoo, binibili mo, ginagamit mo, at nakikita nila ang results."
Sincerity trumps everything, even presentation, in Rowena's experience. "Mas na-appreciate ng mga tao ang real pictures vs stylized ones, 'yung raw talaga," Rowena explains. "'Di sila masyadong concerned na ginandahan mo; mas concerned sila na totoo."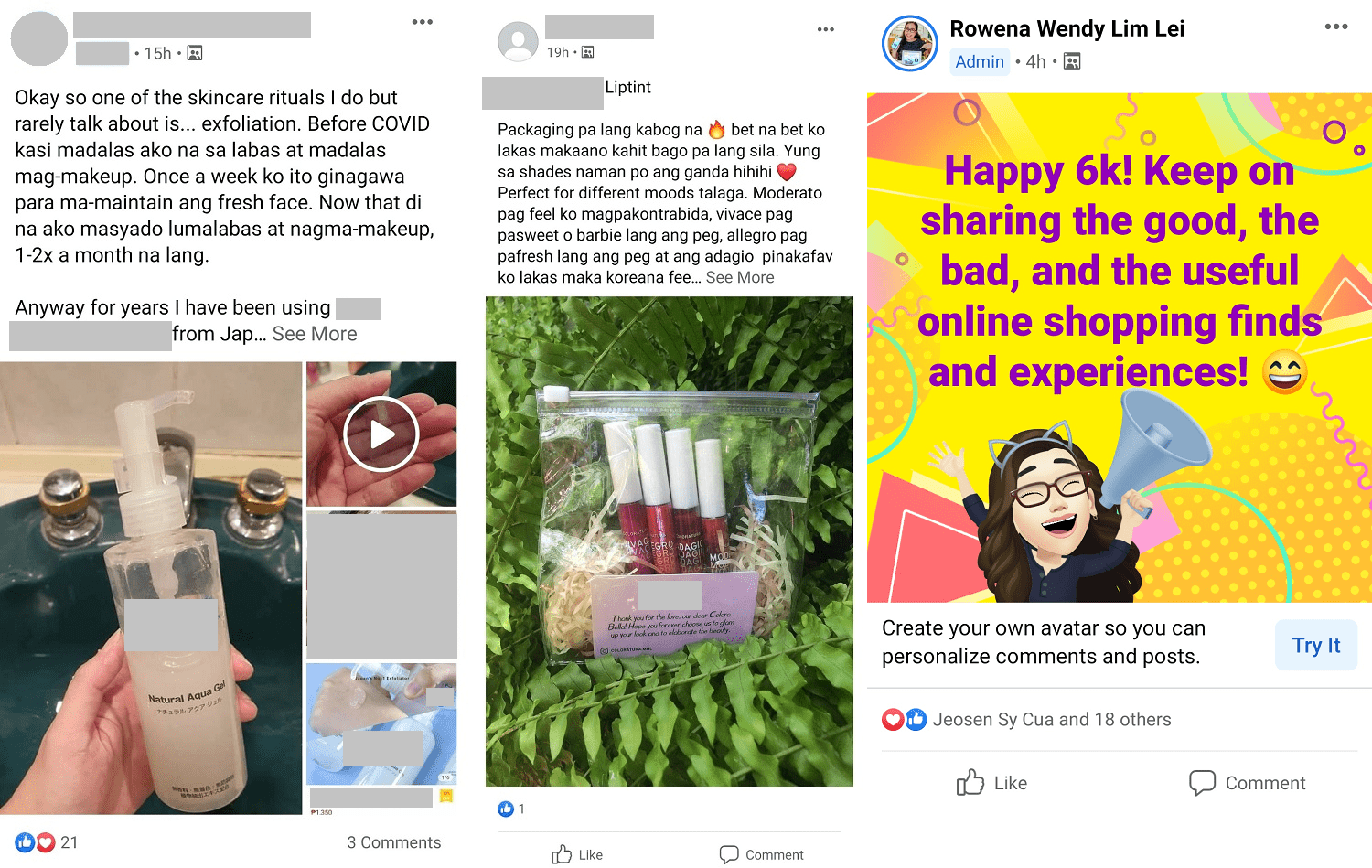 The rules in a quality "budol" group
Rowena admins for The Budol Group (TBG), a small (6,000+ members) but active Facebook group that was founded by her friend, Jeosen Sy Cua, who signed Rowena on as an admin based on her long experience as a blogger and influencer. "I have more experience with social media, and I'm online a lot more than she is," Rowena tells us.
Early on, Jeosen and Rowena recognized that the value of their budol group depended on how real the content on the group was perceived to be — not driven by "inauthentic behavior" like sock puppets, fake users and hard-sell posts.
"We always stress that we want to be a useful resource," Rowena tells us, explaining that she and Jeosen have designed and strictly enforced a rulebook to keep TBG as useful as possible.
First, no "useless content", which to Rowena smells like an obvious sale: just a copy-paste review, generic screenshot from an online store and an affiliate link. "Deleted ka at blocked ka!" Rowena says. Affiliate links are allowed, "but put meaningful content — your own photo, (reviews in your own words like) bumili ka noon, nag-enjoy ka talaga," Rowena explains.
How to authentically promote your product on budol groups
Is it still possible for beauty and fashion ecommerce brands to promote their products on a budol group with authenticity, under these rules? Absolutely yes: Rowena believes that sellers can (and should) engage budol groups properly, but in ways that benefit everyone.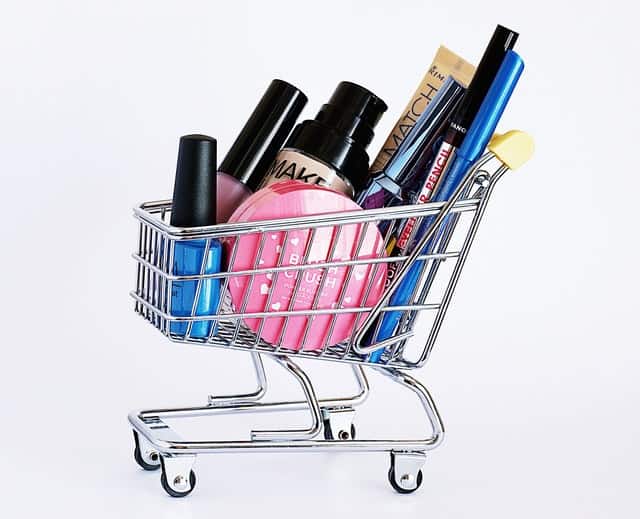 Step 1: Find the right people
You want to get certain budol group members on your side, but that means looking around and reading members' posts. "Sino yung mga nagpo-post that gets a lot of attention?" Rowena asks rhetorically. "You can see who posts na napapansin ng mga tao — maganda siya mag-picture at mag-explain, mataas ang engagement."
Alternatively, you may try reaching out to the group admin: "We can pin it at the top of the feed if we're reviewing it," Rowena says.
Step 2: Reach out with a voucher
Once you've identified your target member, message them and ask about their interest in your product. If they're interested, offer them a voucher for your product — not an outright freebie or a gift.
"Bakit mo bibigyan ng voucher, di mo outright padadalhan? Para ma-experience nya what it's like ordering from you!" Rowena explains. "From the get-go, tumitingin sya ng product mo, nagbayad sya, dineliver mo!"
Step 3: Ask for honest reviews, not outright positive ones
"So long as you let us share our real opinion, there's no problem," Rowena confides. "Within reason, we won't bash you even if we don't like it. Pero kung didiktahan mo kami na kailangan positive yan, forget it!"
This step does take a little bravery on your part. "Kailangan open ka, hindi mo maga-guarantee na 100% maganda yan," Rowena explains. "At least, open ka for improvement, di ba?"
With members' unerring nose for inauthentic behavior, you're more likely to be reported to the admins, who will ban you permanently for doing this. "It really doesn't work, I don't know why they keep doing it," Rowena laughs.
Effort that pays off
If approached the right way, budol groups can be a powerful way to promote your beauty or fashion ecommerce store. It does take a bit of work — a) finding a quality budol group with an active but authentic stream of opinions from engaged members; and b) approaching members in a way that respects their point of view. "It takes a bit of time, but I think the payoff is higher," Rowena explains. Once you engage with budol group users and find ways to bring your product to their level, you can unlock a powerful new way to gain sales and increase your brand's profile.
Featured image by HappyNati via Getty Images