How to Bring Your Summer Sales Online
Online sales are getting hotter by the day! Is your business in it? If not yet, this is where you start.
It's not even 9AM, and you're melting like a halo-halo that's taken too long to mix. We can all feel it—summer is here, unapologetically here.
And that means one thing for online sellers: summer sales are on. Are you ready?
Prepare your online shop now
If you're selling online for the first time, have you done the following yet?
Choose an ecommerce business model
Set up an ecommerce shop
Create social media pages
If not, get started ASAP.
But even if you've been selling online for a while now, you still need to make sure your online assets are updated for the summer season.
1. Choose an ecommerce business model
There are many models for selling online, but the three more popular ones are private and white labeling, direct-to-consumer (D2C), and dropshipping.
Private label
Private labeling means giving a manufacturer a design and asking them to make it solely for you. This is a great option for sellers who want to build a strong brand.
#NinjaTip: Do extensive competitor research to find out how you can differentiate your designs from other private-label sellers.
White label
With white labeling, you buy generic products from the manufacturer and stick your brand on them. That means you'll have competitors selling the same product, so you have to amp up your marketing and customer service to gain an edge.
#NinjaTip: Figure out what will make you stand out from competitors. Are you targeting a different geographic market? Do you give customers personalization options? Do you offer products in bundles or promise a superior delivery experience?
D2C
D2C means exactly that—you sell your products directly to consumers, no middlemen involved. If you have your own website or sell through social media, you'd be using this model.
One key to D2C success that not many first-time online sellers think about is establishing a good relationship with a logistics service provider. Find one that can accommodate your needs as a solopreneur, small business, or large e-tailer—whichever category you fall into.
#NinjaTip: Think of your logistics service provider as a partner who helps you deliver great service. They should make it easy for you to book and track deliveries, inform customers of the delivery status, accept different payment methods, and manage returns.
Dropshipping
Dropshippers source products from third-party suppliers but don't actually keep them on hand. When they receive an order, they forward the info to the supplier, who ships the product directly to the buyer. This is a great option for those with no space to keep stocks.
Dropshipping took a hit in 2020 due to the pandemic, especially with lockdowns in China that caused factories and deliveries to come to a halt. Dropshippers learned a valuable lesson: diversify your sources.
By doing so, you'll not only protect your supply stream, but also make your customers happy by giving them a wider range of products.
#NinjaTip: There are platforms that make it easy for online sellers to find suppliers in different countries. Ninja Direct, for instance, connects you to potential suppliers from all over Southeast Asia. 
2. Set up an ecommerce shop
Decide whether you want to have your own website, be a seller on a platform, or sell on social media.
Own website
Having an owned channel, such as a website, gives you control over your branding and online store operations. You can control many aspects of the channel, especially the user experience. And guess what—38% of online shoppers leave eCommerce websites that they find unattractive, so it's really important that you get to control what users see on your site and how they interact with it.
You can showcase your products exactly the way you want to. You can let customers create a profile, making it easier for you to analyze each one's shopping habits and preferences so you can offer tailored promos, rewards, and marketing messages.
#NinjaTip: First, you have to make sure people find your website. That involves a lot of digital marketing, including search engine optimization (SEO) and online advertising. Get an expert on your team to plan and implement such strategies.
Selling on a platform
Shopee and Lazada rule the eCommerce platform game in the Philippines: the former has 51.90 million monthly web visits while the latter has 39.41 million. So if you want a massive market, you won't go wrong by selling on these platforms.
But—and there's always a but—the sheer magnitude of Shopee and Lazada means you face lots of competition. Study each platform's features so you can make the most out of them.
#NinjaTip: Find out what kinds of item tags and listing descriptions are effective on each eCommerce platform. Visit top sellers' stores, see what they do well—and imitate them.
(One more tip: Check out our beginner's guide to selling on Lazada!)
Social media selling
For the sixth straight year, We Are Social and Hootsuite identified Filipinos as the most active social media users in the world. This year, Pinoys are spending 22 more minutes a day on social media, clocking in an average of 4 hours and 15 minutes a day.
You can bet that a chunk of this time is devoted to buying and selling. When researching brands, 65.4% of internet users in the Philippines go on social media and 58.4% use search engines. It also found that ads and comments on social media are significant drivers of brand discovery in the Philippines.
#NinjaTip: social media selling isn't all about how your pages and posts look. The way you chat with customers can make or break many deals. Check out our guide to conversational commerce to nail the game.
…Or you can do all three!
Weave, a homegrown swimwear brand, does exactly that. It sells its products on Zalora and on its website. Although it doesn't use shop functions on Instagram and Facebook, it uses those pages to announce products and promos. Buyers can message them on those platforms or click links to their website shop.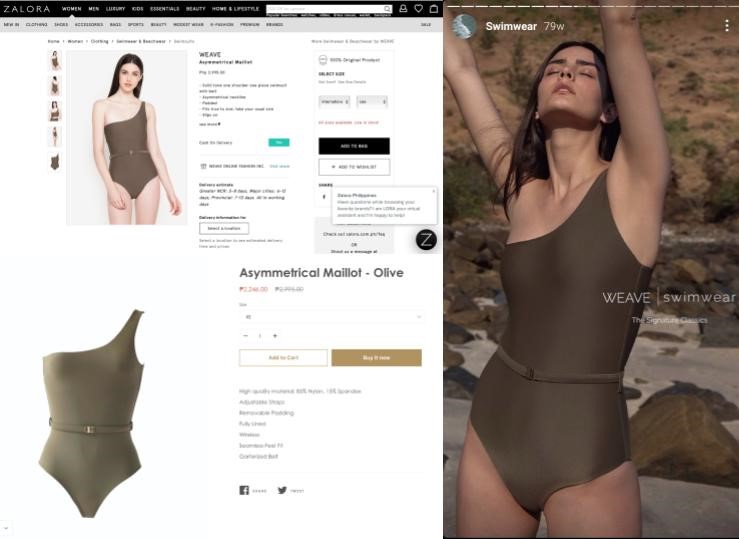 3. Create social media pages
Given Pinoys' penchant for social media, it's essential for online sellers who want to establish a strong brand to have social media pages.
Find out which platforms your customers use, and be there. If you have several target market segments, you may need to use more than one social media platform. Based on your audience's online behavior, you'll also need to decide whether your social media pages will be primarily for marketing or for selling, or both.
You can also think beyond social networks and look into messaging platforms. HaloHalo, a local brand that creates handbags and accessories using native materials and styles, uses Telegram to keep buyers updated on the latest products and prices.
These posts are tailored to suit for Telegram—they're packaged as simple messages, compared to the more artistically driven posts on the brand's Instagram page.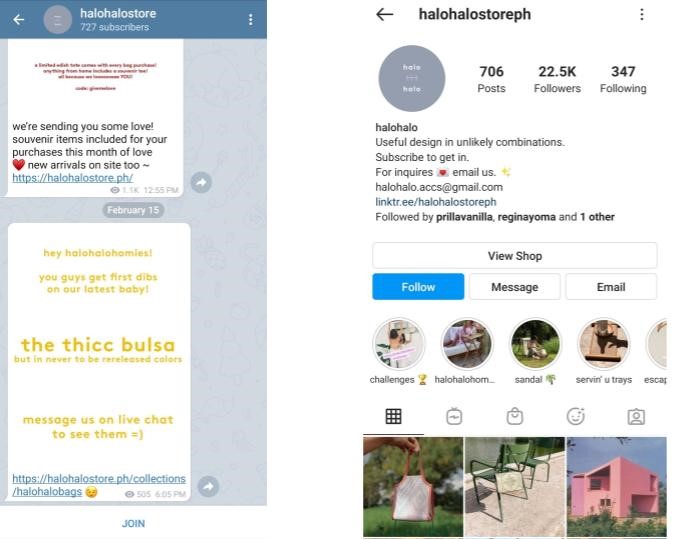 #NinjaTip: You can repurpose a single post for various platforms—but you need to repackage it, too. A static post on Facebook might perform better as a Story on Instagram. A TikTok video might need to be converted to a Carousel ad on Facebook.
Prepare and digitize your inventory
For online sellers, preparing your inventory includes digitizing it and connecting it to your online shops. This is a tedious process—each item needs a product code, images, description, and meta tags, at the very least.
But doing so saves you a lot of headache on the backend, saving your sales and customer service teams time in matching online orders with the physical inventory. It also helps keep your site catalog updated, so that if an item's out of stock, you can mark it as such. Believe us, you'll be sparing customers the frustration of paying for an item online only to find out later that it's not available after all!
If you have a website, you'll also need to think about how you categorize and organize your products, and add page metadata. These details help search engines understand and rank your pages.
You could also use features like product filters to help customers narrow down their searches and find items more quickly.
Take a look at how Sephora PH describes products. Each item comes with the name and a one-line description, information on pricing and sizes, and various images. It also comes with a more detailed description, a list of ingredients, and instructions for use. Scroll further down and you'll find videos and reviews of the product, as well as recommendations of similar items.
Aside from giving customers more info to make a decision without leaving the product page, these details can also boost on-page SEO.
#NinjaTip: Keep things simple if you're still starting out. Figure out what's essential and what's nice to have. For example, is a chatbot a must-have right now? The answer should depend on whether or not the potential returns justify the time and cost of deploying it.
Create digital marketing materials
Visuals, visuals, visuals. Take good photos, plan online marketing campaigns, set up a blog that looks like a magazine if you're in the business of fashion and beauty.
#NinjaTip: When creating marketing materials for your online summer sales, think cheerful colors and lots of light. You can search online for ideas for summer color palettes. You can also shoot on location—at the beach, in a garden, in the mountains.
Keep in mind that you don't have to splash out on a huge production budget. Summer evokes a sense of authenticity and freshness, after all, so keep things natural and simple. The key is to show how your products can be used in different activities.
Sora, which makes towels from recycled post-consumer plastic, does this well in its social media pages. Take inspiration from these images, which don't require any props aside from the product itself, and which use the location to provide beauty and context.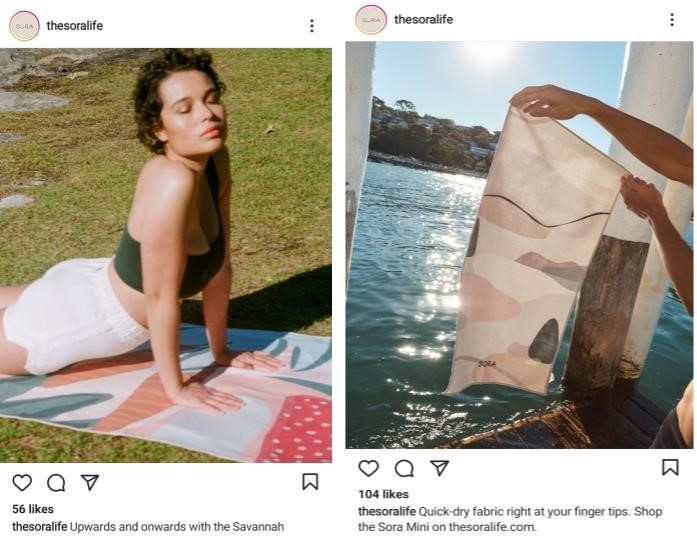 Assess your target market's mood and summer plans
You can learn more about prevailing consumer sentiment through the news and by "listening" in on social media. What do people talk about? How do they react to news and posts online? What types of posts and stories are people sharing, and why?
You can also look at Google mobility data for trends of people's activities in different cities in the Philippines. Are more people heading to beaches and mountains, for example?
Similarly, you can delve into Google Trends to know what people are searching for. For example, are more people in Metro Manila searching about flights to Palawan or Cebu? Are Filipinos increasingly searching for swimwear or athleisure products?
Lastly, keep an eye on the consumer confidence index. Lower consumer confidence will compel consumers to focus on essential purchases or to seek out lower-priced goods.
#NinjaTip: If you're selling higher-priced goods, make sure your online shop has enough rich content to convince consumers of your products' value. For example, you can tell the story behind the creation of the product so buyers will understand why they're paying a premium.
Keep in mind that this year, it's not all about the beach
Blame it on Covid. Think of those who will be having staycations in the city, or even cooped up at home. Come up with fun ideas to enjoy summer indoors and in the yard, and sell the products people need for those activities. Think kiddie pools, garden sprinklers, glamping gear, bouncing balls, and popsicle molds.
#NinjaTip: Even if the items you're selling aren't specifically for summer, you can give consumers ideas for how to use them this season.
Take a look, for example, at these face shields by Island Girl, spruced up with woven hats and visors for extra protection under the summer sun.
Plan your ecommerce promos
With consumers in a cash crunch, price is a priority when it comes to purchasing decisions. KPMG Philippines found that value and price have become the most significant drivers of consumer loyalty and buying decisions amid the pandemic.
So how can you make it easier on consumers' wallets without squeezing your own profit margins? Think of online sales you can run, partners you can tie up with to offer product bundles, and discounts for minimum order values. Identify major online shopping events like payday sales and Easter.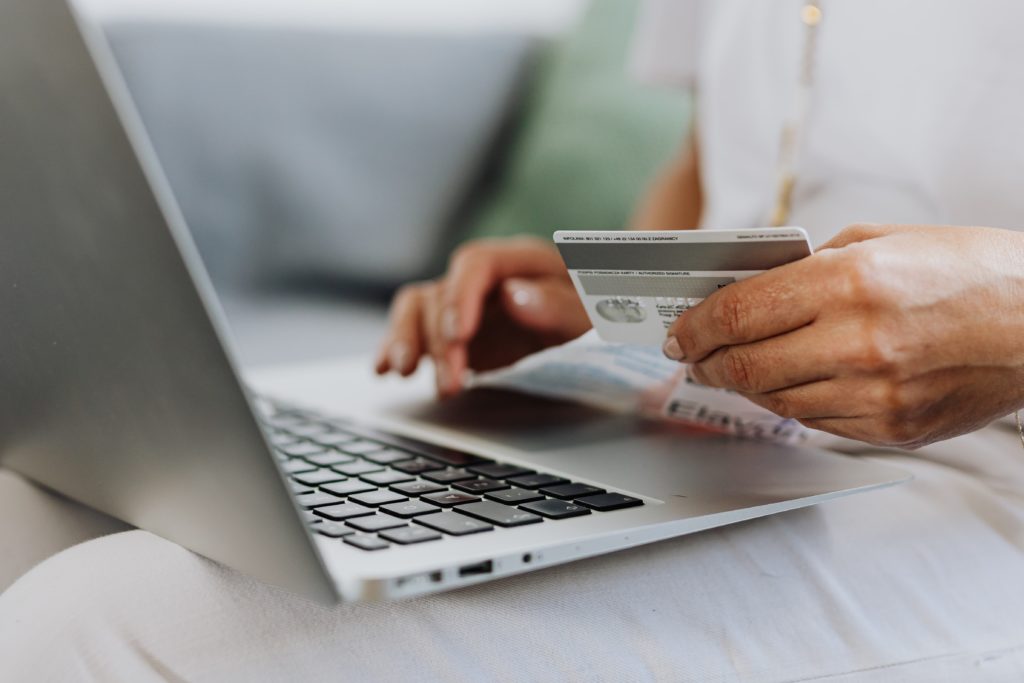 Think about how the pandemic affects summer promos, too. Maybe in the past year, you held promos in time for huge outdoor parties and summer festivals. But people might not be so keen to do these things this year, and rules like liquor bans and curfews might affect such plans.
#NinjaTip: Find out if your delivery partner has flexible pricing that allows you to offer discounted shipping for a minimum merchandise value/volume.
All set for the summer season
Summer is here—and along with it, the start of the Philippines' COVID-19 vaccination program and rays of hope for businesses in the country.
Featured image by Vicko Mozara of Unsplash.