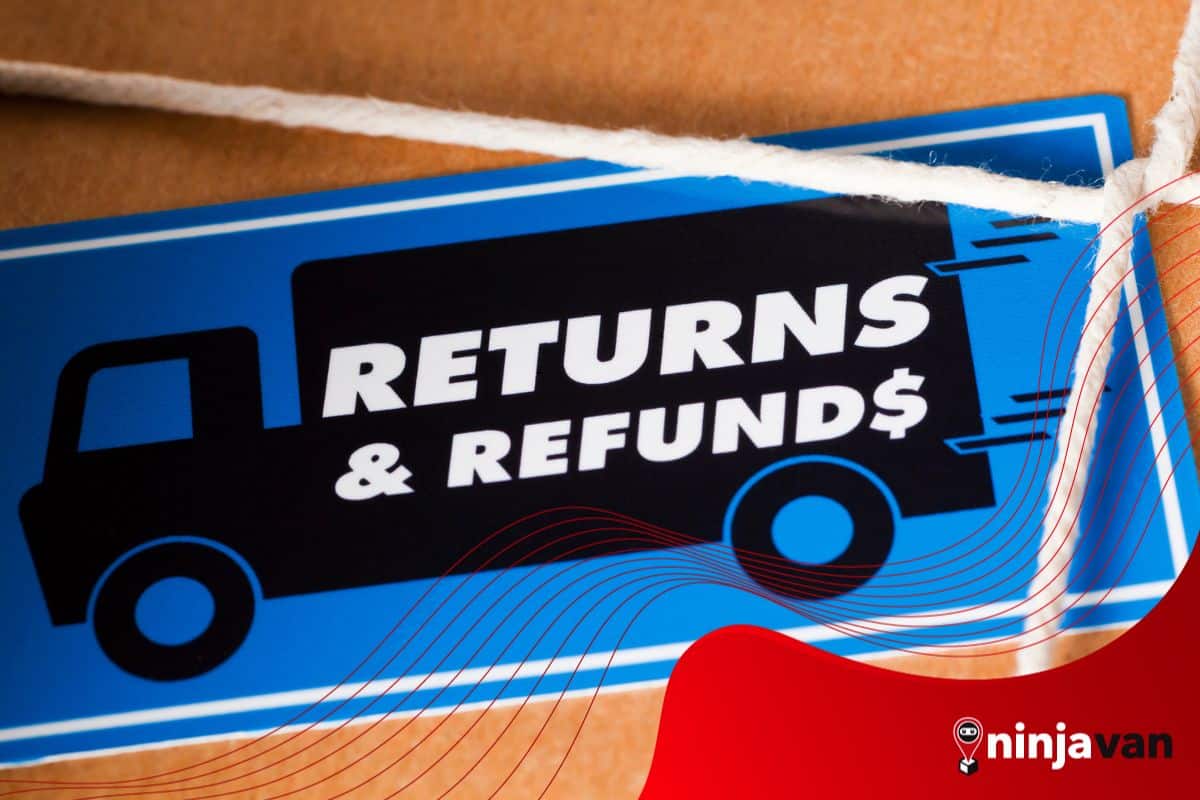 How to Write an Easy Return and Refund Policy
60% of customers read the returns policy before buying. Here's how to make the right one for your business.
Returns, refunds and exchanges are part of any business. While it might seem counterintuitive for a shopowner to allow — even encourage — returns, having a convenient return and refund policy has benefits.
What is a return and refund policy?
A returns policy is intended to outline the details of a return. This includes the how, when and under what circumstances shoppers can return purchased items to your store.
For one thing, it adds credibility to your business. Think of it as a guarantee: you're telling customers that if they're unsatisfied with their purchase, they can get their money back. That builds trust, and not just with new customers either.
Studies have shown that customers who experience a positive returns experience are more likely to remain loyal to that business. A 2017 consumer survey by Narvar found that 82% of customers who returned an item were repeat shoppers of that retailer, and 95% who were satisfied with the returns policy and process said they would purchase with the retailer again.
It's no surprise, then, that a return and refund policy that's easy and convenient for customers can increase sales without necessarily increasing the volume of returns.
And let's not forget the most important reason of all to have a return and refund policy: it's required by Philippine law.
Studies have shown that customers who experience a positive returns experience are more likely to remain loyal to the business.
But creating an easy return and refund experience centered around customers isn't always straightforward. Here's a simple way to approach it.
Figure out the terms and conditions
A balanced returns policy will protect your business from inappropriate RTS (return to sender), and keep your customers happy at the same time.
So the first step is to figure out the terms and conditions that can balance these needs. Here are the basic things you need to consider:
Time frame
Usually, the first thing customers want to know is how much time they have after purchase to return an item. Lazada, for instance, promises customers at least a seven-day refund window across the site and a 30-day window for LazMall products.

Having a clear time frame for returns can help customers decide whether they want to push through with that purchase or not. A longer window may be just the thing that nudges them to purchase if they're still unsure.

Based on data extracted by returns platform, Loop Returns, customers usually return items within 14 days. But if you want to strengthen customer relationships, offer longer return periods. A standard 30-day or even longer can make you look generous.
Expected conditions
What are the conditions with which a customer can facilitate a return?
Can they only return defective items?
Are they able to return items they weren't totally happy with?
What condition does the item need to be in?
Do the tags and packaging need to be intact?

The conditions for your returns policy are entirely up to you, but you need to make sure that you lay out the exact conditions that you're willing to accept or run the risk of getting back items in conditions too poor to be resold.
If customers do try to facilitate a return but don't meet the expected conditions, you can still offer some consolation. Rustan's, for example, offers E-Gift Cards for 50% of the value of the product if the outer packaging is damaged or the tags are missing.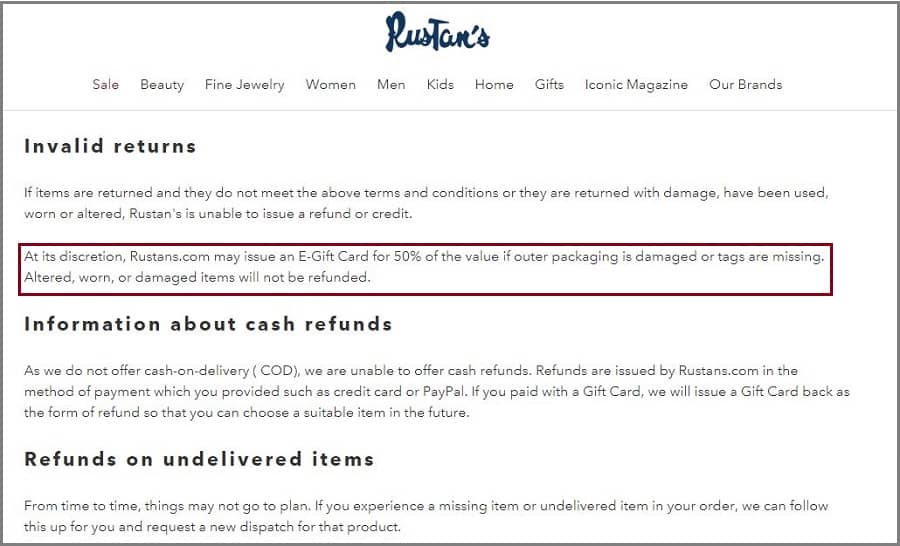 Also be upfront with items that 100% cannot be returned, like products with a broken hygiene seal (such as underwear or swimsuits), personalized items, or perishable products like food. Explain why they're not eligible for returns.
Processing times
Customers want to know how long it will take to get their money back. This depends on the mode of payment and the type of refund you'll be giving them. If a speedy refund isn't possible, just be transparent. Offer to send regular emails or text messages to keep customers updated every step of the refund process.
Refund or in-store credit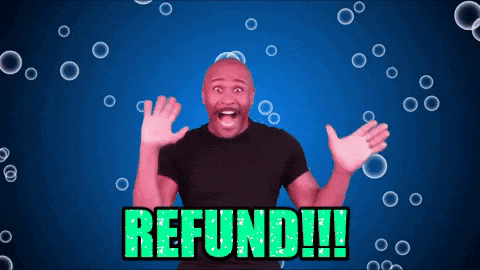 Many customers will expect a full refund in cash or credit, but others would happily settle for in-store credit. While the latter might be better for your business, only offering in-store credit might not bode well with customers. In this case, it's better to offer both options.
Fees
Of course, disclose any fees that might be associated with facilitating a refund, if any. Don't put it in fine print either. Make this part visible on the page to avoid miscommunication.
Steps needed to facilitate a return
Outline how customers can go about returning an item from your store. You will want to make it as easy as possible for them to do so.

Zalora, for example, lets customers file returns from its app or website. Customers can choose which item they would like to return and how they prefer to return it, whether they want to schedule a pickup from a rider or if they want to drop it off at one of Zalora's partner couriers.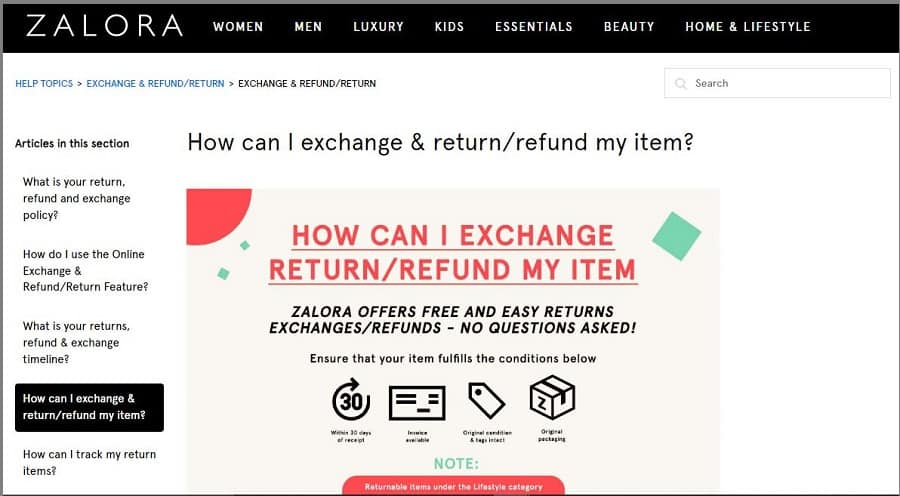 Having a convenient returns process is key to making customers happy. But in any case, just make sure to outline the steps in clear, concise detail and make the whole process as simple as possible.
If you're confused by all of this, there are templates available online for you to craft a return and refund policy. But for bigger businesses with complex operations, it might be best to hire a lawyer for this one.
Creating your return and refund policy
Return policies don't just need to be detailed; they also need to be accessible and understandable. Here are a couple tips to make sure you and your customers are on the same page.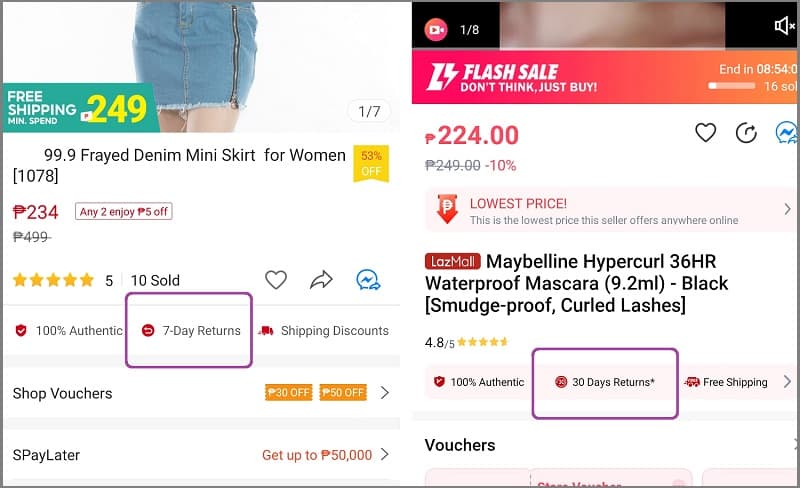 1. Make your return policy stand out
It's important that your returns policy is visible because 60% of customers review a store's refund policy before making a purchase. So don't hide it and make your returns policy visible on your website.
For example, Shopee and Lazada include their returns policy on every product page (see screenshots above). While customers are looking at a product, they can clearly see that they have at least a seven-day window for returning an item.
Here are a few other places where you can insert your returns policy:
Shopping cart
Product page
Website chat tool
Order confirmation emails
Website footer
2. The simpler the better
Create clear instructions with simple and straightforward language. If you aren't a lawyer, don't act like one. Avoid using jargon and make sure it's easy to understand what can and cannot be returned, and the whys and the hows.
It might also help some customers if you can create translations in Filipino. And if they have more concerns or inquiries, add an email address where they can send you a message, or better yet direct them to your chatbot, if you have one.
3. Make the format scannable
Beauty Bar, for example, includes their return policy in their FAQs, laid out in clear, unambiguous language (see screenshot below). The FAQ format is perfect for explaining one's return policy, as you can use it to answer the most frequent questions and issues in an easy-to-understand format.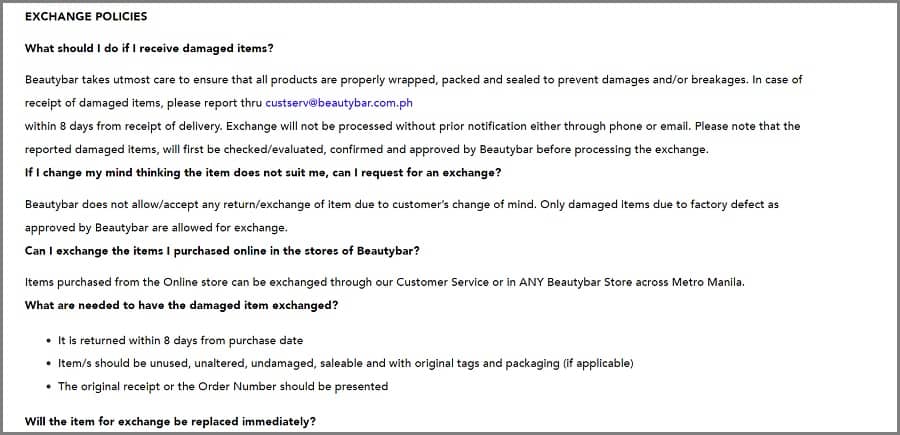 If you're wondering about the best way to lay out your policy, keep in mind that most people skim headlines and read bullets. So keep your points short and sweet, use plain language, and if you can, match your brand's voice, too.
Not just a returns policy
Don't just think of your returns policy as a body of rules but also an extension of your company. Your policy reflects your brand's core philosophies, attitudes, and tone.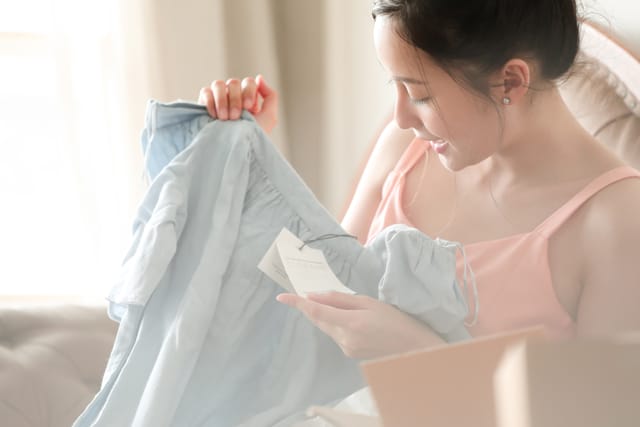 A stringent policy that offers little wiggle room for customers to make a return reflects a company that prioritizes profit over the happiness and satisfaction of its customers. Meanwhile, a generous and convenient policy reflects a company that cares.
Take your time figuring out your return and refund policy and remember that nothing is set in stone. You can still change the rules that don't work for your business or your customers.
Featured image by stocknshares via Getty Images