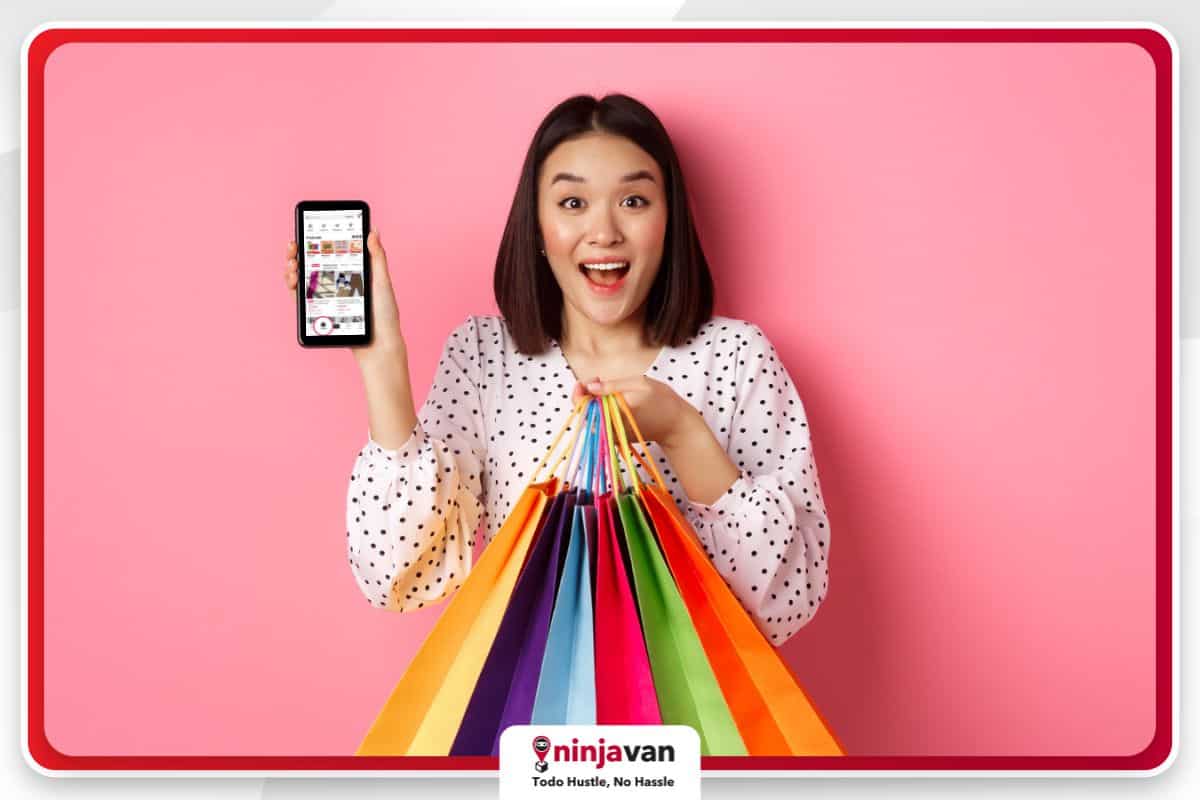 Who are the Pinoy E-Shopaholics and How to Win Them Over
Filipino e-shopaholics are responsible for 47% of ecommerce sales in the country. Who are they and how can you tap them?
While online shopping was becoming the norm, the Covid-19 pandemic propelled it into a new phase.
In Southeast Asia, 15% of online shoppers are what we call e-shopaholics. They're responsible for 45% of the total SEA online purchases, according to Ninja Van's 2023 white paper, The Future of Ecommerce in SEA.
Download the full White Paper here
In the Philippines, 19% of Filipino online shoppers are e-shopaholics, and they're responsible for 47% of the country's total ecommerce sales. The top three categories for Pinoy e-shopaholics are:
beauty and healthcare
shoes, fashion and jewelry
small furniture and home decor
Now, who are these e-shopaholics and why do they matter? More Importantly, how can your online business tap them?
Who are the Filipino e-shopaholics?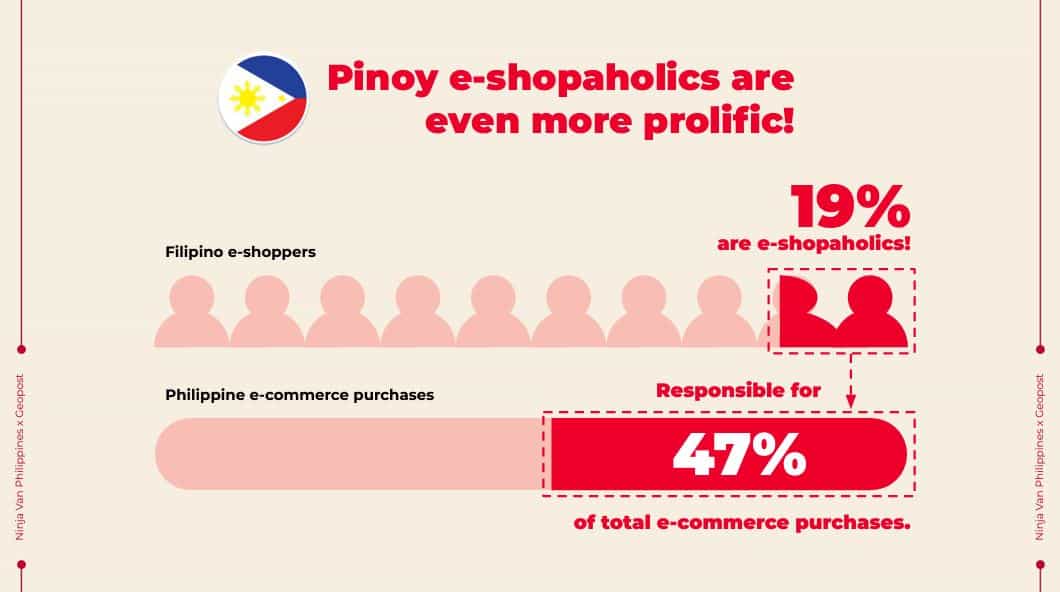 Filipino e-shopaholics have been shopping online way before online shopping was popular. They're not your average online shoppers because they shop twice as much (than normal e-shoppers), and almost all of their purchases are made online.
They're passionate about online shopping, and their love for it drives them to keep checking out. But what else makes an online shopper an e-shopaholic?
4 distinct traits of Filipino e-shopaholics
Filipino e-shopaholics are a huge market for Philippine ecommerce. Getting to know them through these traits can help you attract them to your business.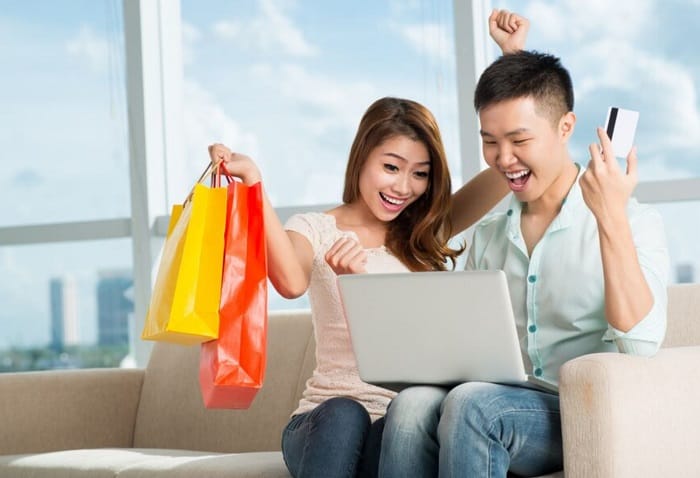 Impressionable. A certified e-shopaholic is well-updated with the latest trends through social media and influencers. About 86% of Pinoy e-shopaholics buy directly from social media (53% of them buy from brands they follow), while the remaining 44% purchase based on influencer recommendations.
Make sure you have your A-game in social media marketing and influencer marketing. What they see on social media and what their favorite influencers endorse has a huge impact on their buying decisions.
Invested. Filipino e-shopaholics don't just scroll and shop, they do extensive research on the products before making a purchase. Most of them even check reviews on various platforms first, since their purchases are reasonably dependent on the product's reviews.
So, don't forget to build an excellent brand reputation online! A good brand reputation points Filipino e-shopaholics in your direction.
Here's how you can Manage Your Brand Reputation Online.
Filipino e-shopaholics are not your average online shoppers, because they shop twice as much (than normal e-shoppers).
Savvy. E-shopaholics like to expand their ecommerce horizons. Not only do they purchase often, they also buy from various categories and channels like Facebook, Instagram, TikTok Shops and other marketplaces.
E-shopaholics like to explore new ways of online shopping, with their research beforehand, of course. So, make sure your business is on multiple ecommerce platforms. This makes your business more visible and attractive to Filipino online shoppers.
Loyal. Never take e-shopaholics for granted. They have higher standards than your average online shopper. For e-shopaholics, receiving the product in excellent condition is not enough. From their initial browsing to parcel delivery, you should give them a great online shopping experience.
You'll have e-shopaholics as your loyal customers and brand advocates. So, make sure you have quality products, an attractive and functional website and fast delivery.
Incorporating these traits into your business can boost your brand awareness, brand loyalty and brand advocates.
#NinjaTip: Give your customers hassle-free deliveries with Ninja Van's postpaid shipping for ecommerce. You'll get a dedicated Account Manager to assist with all your shipping needs so you can focus on other important matters.
How to attract Pinoy e-shopaholics
By incorporating the traits of Pinoy e-shopaholics into your business strategy, you can attract and encourage them to try out your products.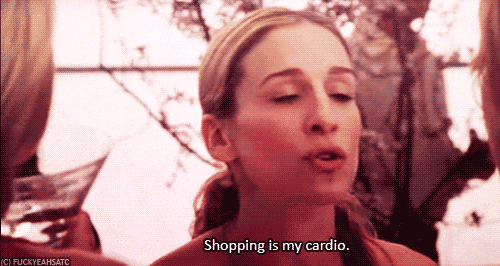 Keep these important points in mind:
Your brand needs to have a strong social media strategy that can influence buyers to consider you.
Use every external touchpoint (social media, influencers, user-generated content) to build a great online reputation for your brand.
You should consider multichannel selling to provide more shopping options.
Remember that many aspects – quality products, good website fast deliveries – contribute to a great shopping experience. Make sure you can provide a seamless shopping process.
Online shopping is second nature to Pinoy e-shopaholics. They're your ultimate ticket to brand awareness, brand loyalty, brand advocate and brand growth if you can win them over.
Don't forget to download the full White Paper here!
Win Pinoy e-shopaholics with the right courier partner
The online business' delivery partner is another important factor for e-shopaholics who participated in our survey. 92% of them shared that knowing who the courier company is provides a level of reassurance and some sense of service guarantee.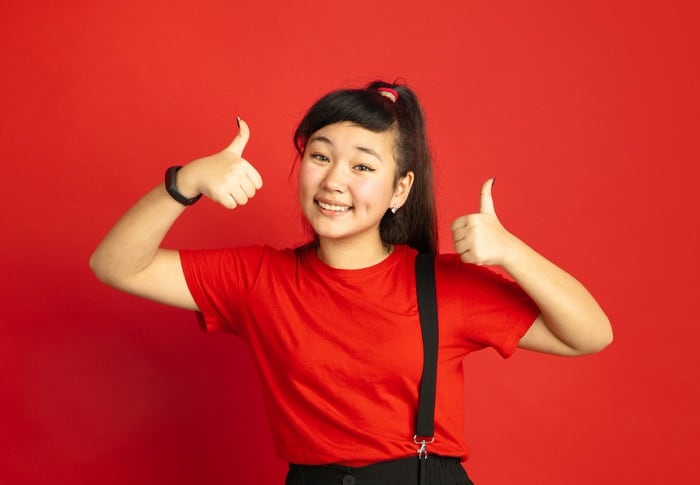 Ninja Van is a reliable courier partner that will give you safe parcel handling, nationwide coverage and fast delivery. Our team will also work with you to create a customized logistics solutions for your growing business needs.
Plus the more you ship, you'll get exclusive access to big shipping rebates and exciting rewards that will help your online business.
You can win Pinoy e-shopaholics' hearts with a great online shopping experience. Because Ninja Van is more than a courier service, you'll have a long-time partner in growing your business.