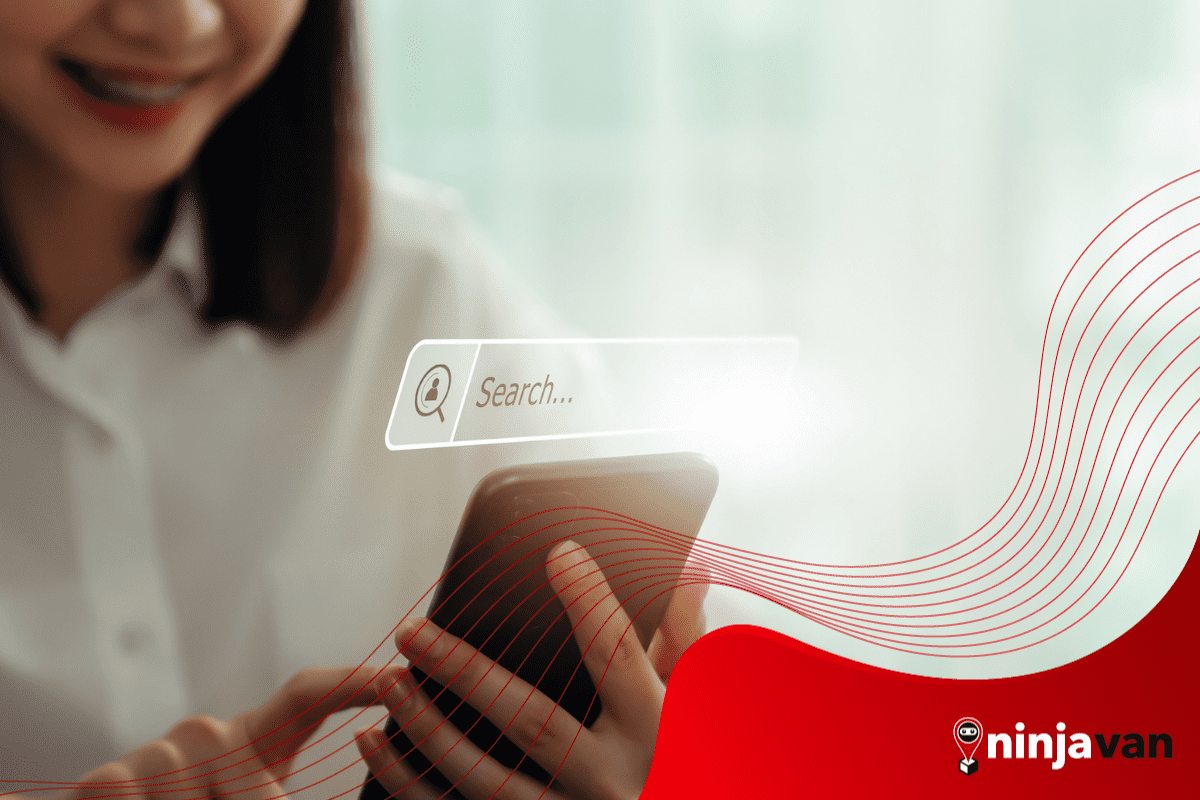 Ecommerce SEO Best Practices You Need to Know
Apply these SEO best practices to your ecommerce site and improve your chances of getting found by your customers online.
Search engine optimization (SEO) for ecommerce can be overwhelming with its technical jargon and the massive workload required for its execution. But it's the heart of your digital marketing strategy.
Yes, you can get results faster through paid advertising. However, if your online marketing budget is limited, you'll need ecommerce SEO strategies that will cost you very little or none at all.
Here are some ecommerce marketing and SEO best practices that can boost your website's ranking potential, searchability and traffic.
1. Be on social media
Many consider social media strategies as separate from SEO, but if your goal is to be visible on Page 1 of Google search results, then social media presence is a must.
Facebook is particularly helpful for local businesses in the Philippines. It is the country's number one social media platform with 72.5 million Filipino users. Regular posts and high engagement on your Facebook page can make your business stand out.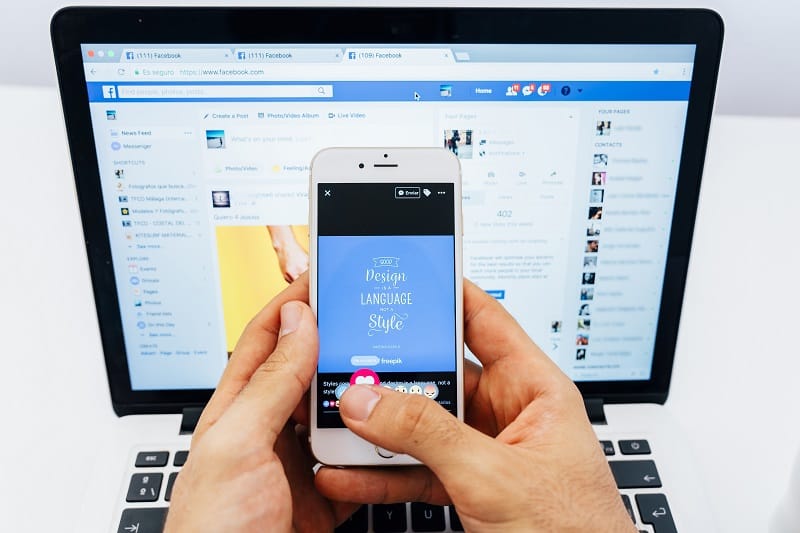 Thanks to an intuitive search algorithm, Facebook pages of local businesses appear first on the search engine results pages (SERPs) when people look for establishments, products or services in a specific location.
So even if you don't have a website yet, your business can already appear on Page 1 of Google SERPs.
Some tips to consider:
Create a Facebook Page instead of a personal account for your business.
Create a Facebook Business Manager Account so that you can manage your personal account, your business page, run ad campaigns and gather insights (business page data) all in one place.
Make sure to fill out the About page with your NAP (name, address, phone number) details and add keywords to your business description (it can be your product or service or the nature of your business).
Learn more about How to Stand Out From Your Competitors on Facebook
2. Find and utilize your competitors' keywords.
One of the first things you'll learn in SEO for beginners is that keywords are crucial to how it works.
A quick recap on what is SEO: It is the process of optimizing a website, webpage or piece of content using various strategies to rank high in Google search. The ultimate goal is to appear on page 1 of the SERPs, preferably as Top 1.
SEO specialists can devise strategies based on the keywords you want to rank for. Most look for keywords from scratch, but another method is to study the keywords your competitors are already using. This can give you new insights and market information you may be unaware of, like what new terms people use when talking about products and services you sell.
#NinjaTip:

Getting Top 1 ranking is crucial because 67.70 percent of all clicks on Google go to the first five organic results. Only 3.73 percent go to the 6-10 results. The share of clicks gets lower for the results on page 2 onwards.
Free SEO Tools for Businesses
If you've hired an SEO agency, they should have premium SEO tools they use for a thorough competitor keyword analysis. But if you're researching on your own, you can use the following free SEO tools:
Spyfu – Enter a competitor's website to find out their – and your – biggest competitors. The website will generate lists of their top paid and organic keywords as well as their most visited pages.
Google Keyword Planner – Enter your competitor's URL, and the tool will generate a table with relevant keyword ideas and average monthly searches. It also tells you which keywords have low or high competition, which can help you decide which ones to prioritize.
Buzzsumo – The free version offers excellent keyword and topic suggestions, but to deep-dive into competitor analysis, sign up for their 30-day trial. You can then use their competitor analysis tools and pick apart your competitor's keyword strategy.
Wordstream by LOCALiQ – A straightforward tool, you only have to enter your competitor's website to get their best keywords with their search volumes.
Rank Tracker – An all-in-one platform that gives you access to 23 keyword research tools, including Google Ads Keyword Planner! The only possible downside is that it is a software tool you must download and install.
After discovering your competitors' ranking keywords, try to come up with a better, more refined strategy so that you can compete for their rankings.
#NinjaTip:

Look for their weak keywords (i.e., products and services they're not promoting) or any weaknesses in their SEO strategy, then strategize to overtake them in those areas instead.
Optimize meta tags
Competitor keyword research also leads to another best practice in ecommerce marketing: meta tag optimization.
Meta tags are text snippets and words that describe the contents of a webpage. These words don't appear on the page but exist in the HTML script or the back-end of the webpage. Optimized meta tags are helpful to a website's SEO strategy as search engines use them to verify if the contents of a page are relevant to a search query.
There are two types of meta tags you should optimize or put keywords in: title tags and description tags.
The best practices for writing meta tags are:
include the main keywords in the title and descriptions
keep the character count at 70 max for the title
keep the character count at 155-160 max for descriptions.
Content management systems (CMS) like WordPress have SEO plugins with a section where you can add the title tag and description: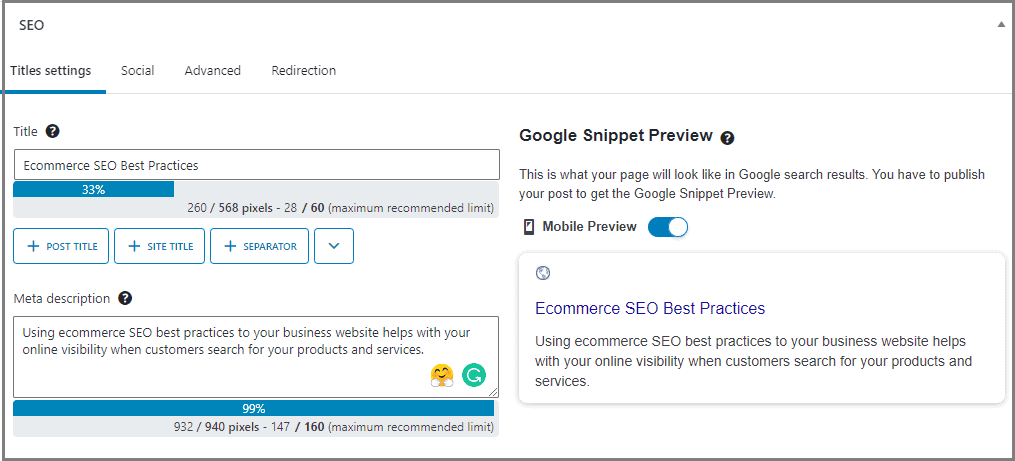 #NinjaTip:

These free tools can help you write, edit and preview how your meta tags will appear on Google and social media. MetaTags.io, ToTheWeb and BuzzStream.
3. Use canonical tags
Manufacturers sometimes require online sellers or distributors to post the official descriptions and specifications of their products on product pages. As a result, ecommerce sites that sell the same product will have many pages with duplicate or similar content.
The same can happen to a seller that sells different variations of one product. See the example below:
Product main: https://fantasticshop.com/hats
Product variation: https://fantasticshop.com/hats?variant=red123445
To ensure that the main product page gets all link signals and appears on the SERPs, you need to add a canonical tag to the html code of the main page. This tells Google not to index the variation page.  Your SEO specialist and webmaster can do this for you.
Duplicate content can harm your site because Google has always emphasized the importance of unique, high-quality content. Unfortunately, they are unavoidable on ecommerce websites. Canonical tags will sort this problem out.
4. Keep your website architecture organized and shallow
Ecommerce sites have hundreds of product pages. From the Homepage, you go down to a category page, subcategory page, product page and maybe even a product variation page.
So it's very common to have a product page URL that looks like this:
https://fantasticshop.com/products/books/hardbounds/r/rowling/harrypotter/prisonerofazkaban.html
Each slash refers to a category on the site. Websites where users have to click on so many categories before finding the right content are frustrating and hard to navigate. They're also disadvantageous for SEO because it takes search engines longer to index and crawl the pages (which, unfortunately, are likely to be the product pages).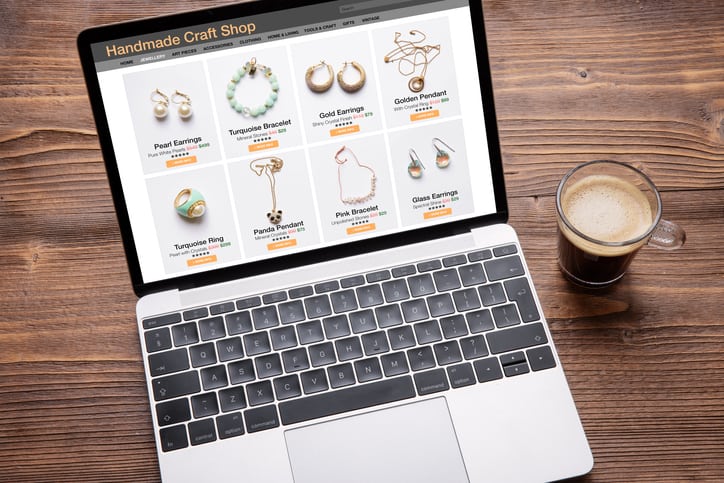 Plan your website architecture from the beginning; if you already have a functioning website, consider redesigning the structure with the help of an SEO expert. This can take a lot of time and work, but getting indexed by Google quickly and more effectively will be worth the effort.
Here are a few tips:
Make the structure simple, one that won't require too many tabs on your main navigation bar.
Categorize pages wisely so that your future content will have a place to go. You shouldn't have to create a new category whenever you introduce a new product, service or website feature.
Make your innermost pages accessible by four to five clicks, max.
Get seen first by improving your ecommerce SEO strategy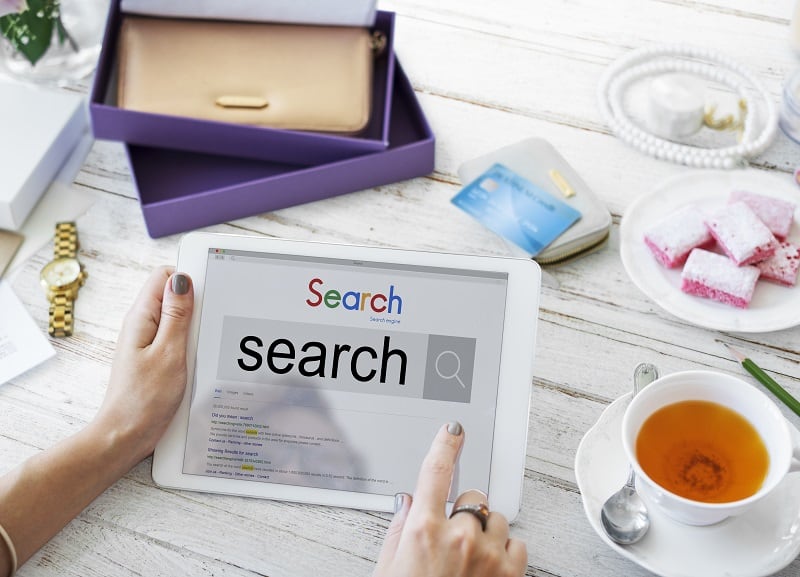 The COVID-19 pandemic forced many businesses to shift from traditional to ecommerce (or branch out to ecommerce) faster than they probably planned.
You have an advantage if you got into ecommerce before your competitors. However, it is the nature of SEO to give many players a fighting chance at topping the SERPs. It boils down to strategy and how well you execute it.
The tips above can help you refine your ecommerce strategy and SEO marketing so that you can stay visible as the market becomes more congested. Visibility will translate to more clicks and leads, higher conversions and higher sales.
Featured image by Sompong Lekhawattana via Getty Images