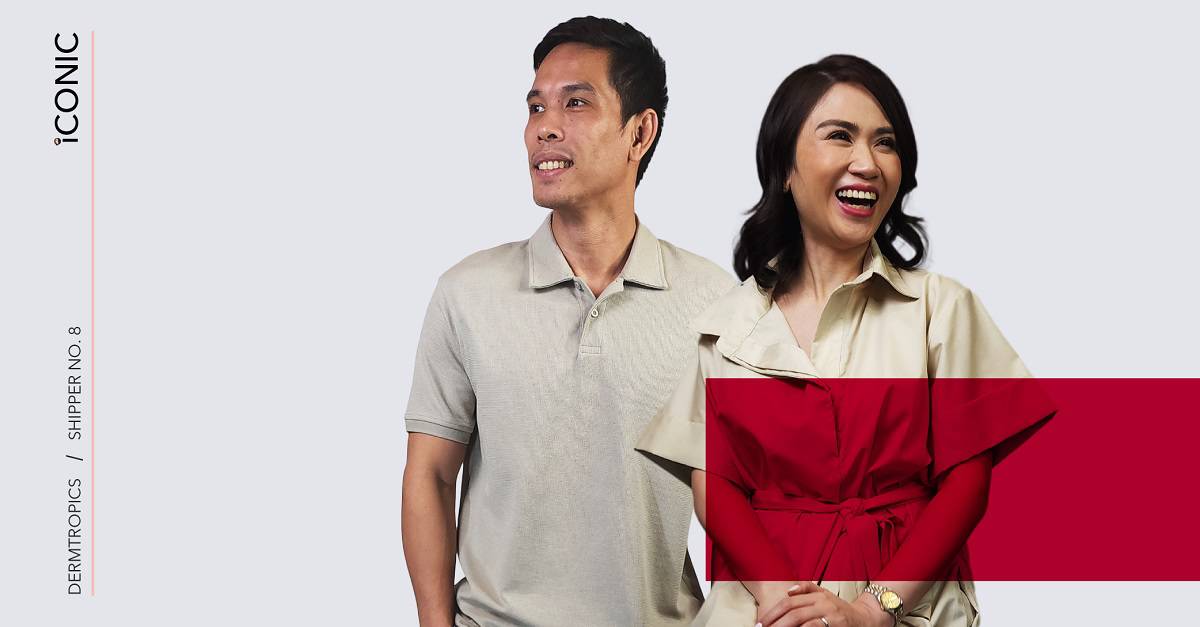 Iconic: Dermtropics & Ninja Fulfillment on Building Business Efficiency While Fostering Sustainability
Dermtropics finds balance between business efficiency and building a sustainable brand by partnering with Ninja Van.
Running an ecommerce business requires efficiency in managing inventory and fast delivery of the products to the end-customers.
This is especially crucial when the business services a saturated market like the beauty industry. With thousands of competition that may offer cheaper options online, making sure there are enough products available and that will reach the customers within the agreed timeframe is crucial.
Ninja Fulfillment is a service that provides warehouse management solutions for ecommerce businesses to help them maximize their business efficiency. Our tech-enabled system will store, pick, pack and deliver the items as soon as orders are placed in the system.
This cost-effective solution creates a good impact on the brand as customers demanding fast deliveries can get their items sooner than expected.
With Ninja Fulfillment, online sellers and business owners also save on manpower, warehouse storage rental and other costs. This gives them more resources on growing their business and fostering advocacies around their brand.
Bridging profitability and sustainability
Dermtropics is a brand that produces eco-friendly products that have been proven effective (meaning safe even to the most sensitive skin), and has a consistent effort for sustainability.
What sets it apart from other natural beauty brands is its commitment to using only the highest-quality, sustainably sourced organic ingredients in its products. But the main star is virgin coconut oil (VCO) — a natural ingredient sourced from local farms and cooperatives in the country.
"Our inspiration came from a desire to create high-quality skincare products [that] were sourced from sustainable, local ingredients." – Margaux Arambulo-Lucena, founder & CEO for Dermtropics
Dermtropics was founded in 2019 born out of their passion to share the wonders of VCO and help customers during the pandemic when they had limited access to dermatologists and clinics.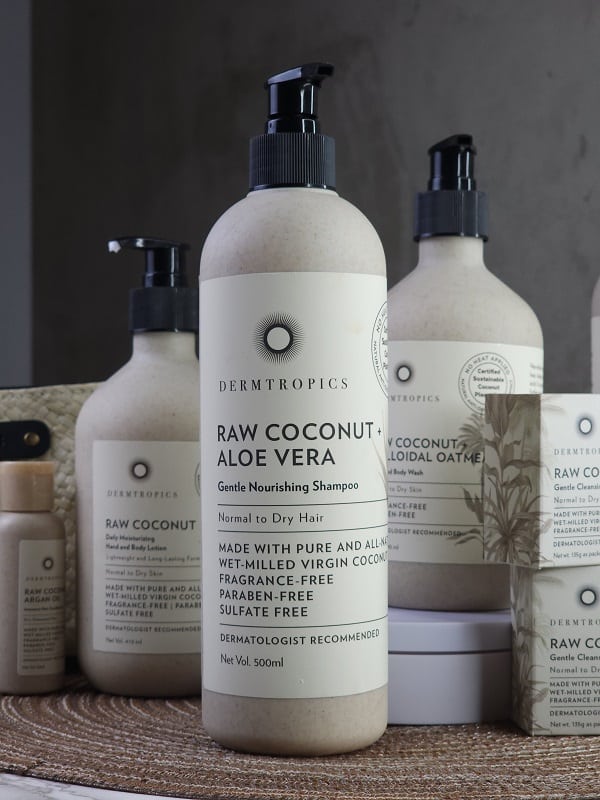 "[We spent] years of research and development into natural, sustainable skincare solutions. Our inspiration came from a desire to create effective, high-quality skincare products that were safe for all skin types and were sourced from sustainable, local ingredients." shared founder and CEO, Margaux Arambulo-Lucena.
Together with her husband, Michael Lucena (also the brand's COO), Margaux founded Dermtropics to provide sustainable options and spread the benefits of virgin coconut oil to Filipinos' skincare regimen.
"We use wet-milled VCO and other plant-based ingredients, carefully formulated to work together to nourish and protect the skin. Our products are also free from harmful chemicals and synthetic fragrances," Margaux added.
The products gained positive reviews from customers who were happy about how Dermtropics helped them in their skin conditions. The brand also received awards and recognition for its commitment to efficacy and sustainability.
The positive press helped spread brand awareness and, soon, the business started becoming profitable. These inspired Margaux and Michael to carry on providing skin relief to more people, while continuously taking steps toward sustainability.
Finding a reliable fulfillment partner
Dermtropics found a speedy and dependable fulfillment partner in Ninja Van.
With Ninja Fulfillment, they're able to store the bulk of their products in one of Ninja Van's warehouses and the system helps them in managing and updating their inventory. This ensures the fast movement of the products from ordering, packing and shipping.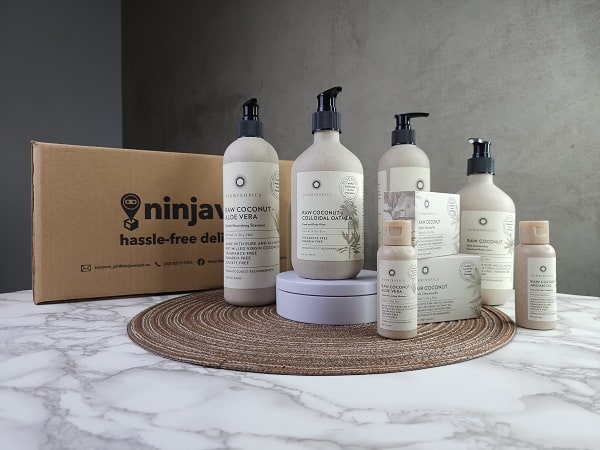 "Ninja Van allows us to easily manage our orders and track the delivery status of each package in real-time, giving us peace of mind."
Michael said Ninja Van has been a critical partner in empowering their business. "With their reliable and efficient fulfillment and courier services, we're able to focus on what we do best, which is creating high-quality, sustainable skincare products for our customers."
He cited Ninja Van's automated order management and tracking system as extremely helpful, as the technology-driven platform also allows them to track their shipments and inventories.
"It allows us to easily manage our orders and track the delivery status of each package in real-time, giving us peace of mind and ensuring that our customers receive their orders on time and with minimal issues," he shared.
Overall, Ninja Fulfillment has helped Dermtropics streamline its operations and deliver a positive customer experience.
You, too, can have the best fulfillment and warehousing services for your ecommerce business today. Reach out to us at 09177161495 or ph-niu-fulfillment@ninjavan.co for more information about ecommerce warehousing services or to get a quote.

Prioritizing sustainability and fair trade
More than dominating the beauty market, Dermtropics as a brand also stands for sustainability and fair trade.
One of the biggest challenges they faced at the beginning was sourcing sustainable, high-quality ingredients at an affordable price.
"We overcame this by building strong relationships with local farmers and cooperatives, and by prioritizing sustainable agriculture and fair trade practices," said Margaux.
Their products also use wet-milled virgin coconut oil, which uses a more environmentally-friendly process in extracting the VCO.
Other VCO-based products mostly extract oil with heat using cold-press or dry processing technology. This method gets more oil but reduces its quality.
With wet-milling technology, no heat is applied to the oil preserving its natural anti-oxidants and aroma and making it free from any chemicals, delivering the VCO in its purest form.
"Our secret to success has been our unwavering commitment to sustainability, quality and innovation. We're constantly looking for ways to improve our products and our processes, and we're always open to feedback from our customers and our community."
A unique advantage
Dermtropics' best sellers are their Gentle Cleansing Bar, Moisturizing Lotion and Low-Foam Shampoo. "Our customers love the gentle, nourishing properties of virgin coconut oil, and appreciate the way our products leave their skin feeling soft, smooth, and healthy," Margaux told Ninja Van.
"My best advice for fellow entrepreneurs is to stay true to your values and to always prioritize quality, sustainability, and innovation."
They plan to expand their reach internationally to cover Canada, Australia and the US. Margaux and Michael believe Filipino products have a unique advantage to compete globally because of our sustainable ingredients that are rich in nutrients and antioxidants.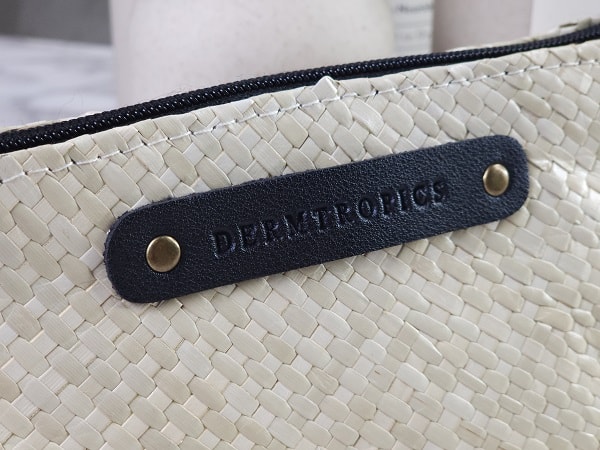 "By emphasizing natural, plant-based ingredients and promoting sustainable practices, Filipino beauty brands can stand out from the crowd and offer something truly special to consumers," they said.
As they continue to bring innovative skincare solutions to their customers, Dermtropics also promises to stand behind its advocacies of promoting sustainable agriculture and fair trade practices, and building strong relationships with local communities and farmers.
Asked to give their best advice to fellow Filipinos building a sustainable brand, Margaux shares this roadmap: "My best advice for fellow entrepreneurs is to stay true to your values and to always prioritize quality, sustainability, and innovation.
"Listen to your customers and your community, and be open to feedback and suggestions for improvement. Don't be afraid to take risks and try new things, but also be prepared to adapt and pivot as needed. And most importantly, stay passionate and committed to your mission, even when faced with challenges or setbacks."
Get better shipper experience today!
Learn about our services and choose the right options that meet your shipping needs.
Find out from our successful shippers why they prefer Ninja Van:
ABT Apparel on Capturing the Gen Z Market
Core Garments on Helping MSMEs Build their Ecommerce Dreams
SNK ATK on Slaying Techwear Fashion