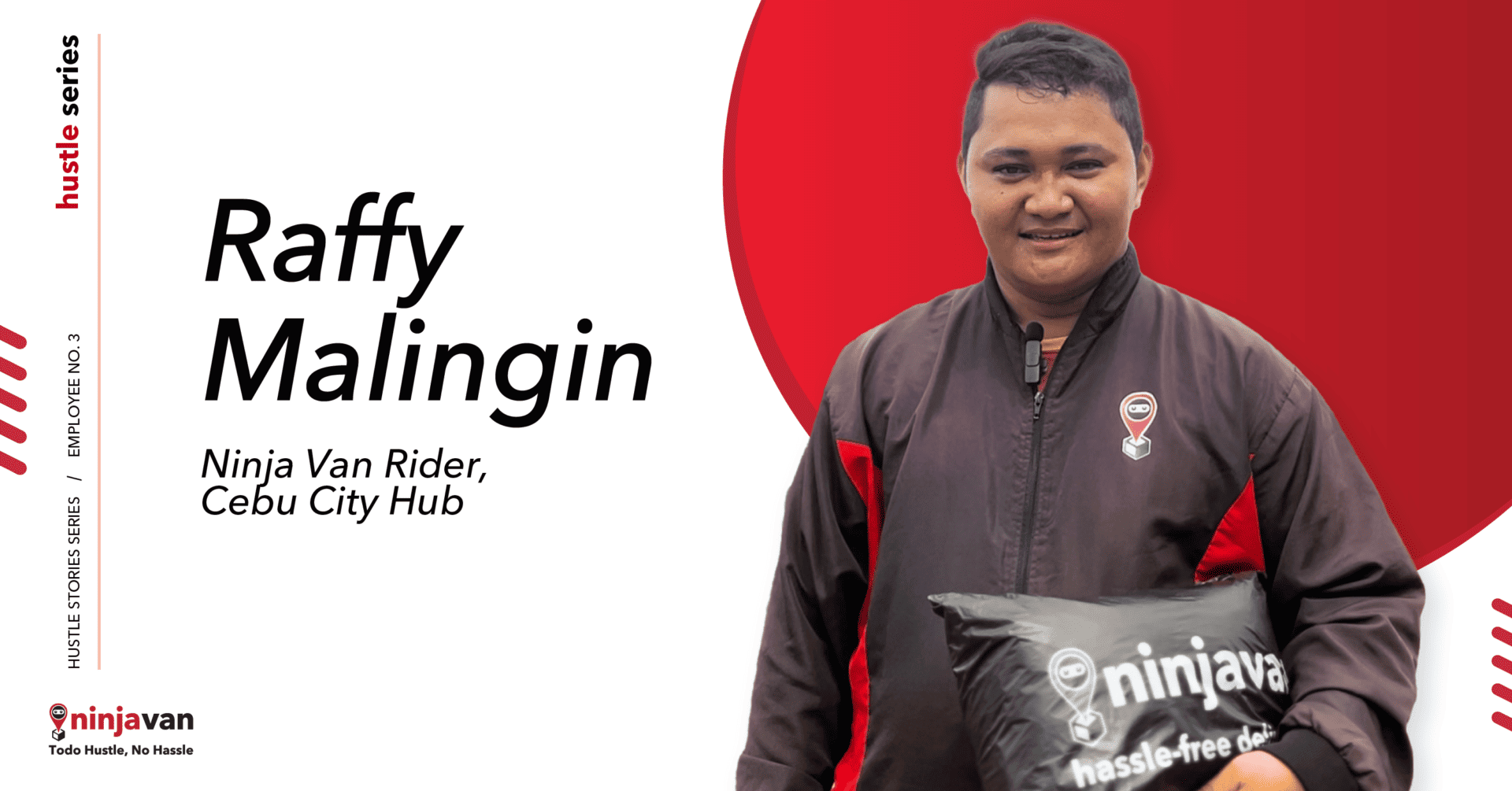 Hustle Story: Ninja Rider Raffy Malingin
This Ninja Rider from our Cebu City hub works hard and makes sure to inform customers of their deliveries to give them peace of mind.
Being a delivery rider takes a lot of effort and dedication. They're constantly required to have a sense of time and responsibility as they make sure the shippers'' parcels are delivered on time. They're also expected to be flexible when encountering traffic and weather changes.
This month, Ninja Van Philippines celebrates Rider's Month and we recognize the efforts of all our Ninja Riders from Luzon to Mindanao. They're the face of our company as well as the backbone that allows us to stay true to our promise of bringing hassle-free deliveries.
In the bustling city of Cebu, there's one Ninja Rider that stood out; a role model to his fellow Ninja Riders to follow.
"Focus lang sa trabaho. Kung ano ang binigay na trabaho, gagawin na lang," – Raffy Malingin, Ninja Rider (Cebu City hub)
Raffy Malingin, who's been a part of Ninja Van's Cebu City hub for three years, has been described by the rest of his team as a hard worker, adaptable and a fast-learner.
"Raffy scored high on his Rider Performance Evaluation (RPE). He goes to work even if it's raining hard. And when he can't make it to work, he informs us immediately so the hub can prepare and make up for the loss of manpower needed for the day. He's also not picky when it comes to the routes assigned to him," said Jerson Maraviles, station head of Ninja Van Cebu City hub.
Get better shipper experience today!
Our friendly Ninja Riders are on-hand for early pickup and fast delivery of your parcels.
GET YOUR SHIPPER ACCOUNT
Caring for the shippers and their customers
Raffy's Ninja Van career started in 2020. He already had prior experience as a habal-habal rider and so he thought he'd give it a try. He comes to work at 7:20 AM to start early and deliver more parcels on time. On a regular day, he can deliver 50-60 parcels a day.
"Focus lang sa trabaho. Kung ano ang binigay na trabaho, gagawin na lang," Raffy said.
When interacting with Ninja Van customers, he understands that they sometimes get anxious when their parcel hasn't arrived. So, he makes sure to at least message his customers before he starts delivering parcels, informs them on the COD price they need to prepare, and assures them that their parcels will get to them on that day.
Outside of work, he loves spending his free time with his 6-year-old and 7-year-old kids to make up for the lost time. As he hustles hard on his job, his dream is to see his kids finish their studies so they can have better lives.
Raffy is just one of our many Ninja Riders who constantly hustle hard for you and your customers!
You can also experience hassle-free deliveries when you sign up for a shipper account with Ninja Van. Our Ninja Riders are ever ready to give you on-time parcel pickup and fast delivery of your parcels!
Get to know our hard working Ninja Van team:
From Ninja Rider to Station Officer
Hustle Story: Ninja Rider Jerome Colasito