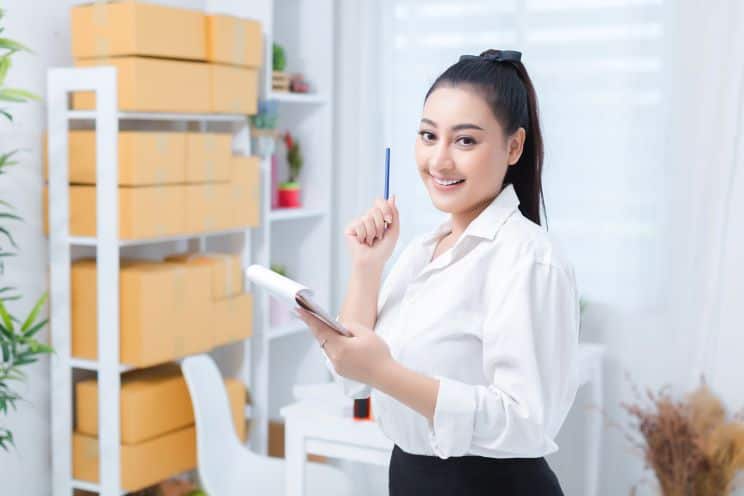 Jumpstart Your Online Business with These 5 Best-Selling Products in Malaysia
Starting a new online business in Malaysia? Check out our list of the top 5 best-selling products perfect for new entrepreneurs!
Fancy starting an online business? Here's the thing. Starting a business is hard. But it's even more complicated if you need to know which products to sell online. As an entrepreneur, finding the right product to sell can be challenging.
So, let's talk about five hot products that are all the rage these days and are perfect for a broad audience. The best part? They're easy to find and won't break the bank, which is fantastic if you're dipping your toes into online entrepreneurship!

#1. Electronics
Electronics is one of the top trending products in Malaysia, and it is an excellent choice for new entrepreneurs who aim to start a new online business. Electronics can be easy or difficult to ship depending on various factors such as the type of electronic device, its size, weight, fragility, and the shipping method used.
Shipping smaller and lighter electronic devices such as smartphones, tablets, and laptops is generally effortless. They can be shipped through regular postal services or courier companies with minimal hassle. However, larger and bulkier electronic devices such as televisions or desktop computers may require special packaging and handling due to their weight and fragility.
Generally, electronic goods have a good margin, so that you can profit from them quickly. Electronics are also in demand, so if someone wants an item you're selling, chances are other people will too!
You can sell electronics online through platforms like Shopee or Lazada with just a few clicks of your mouse.
Here are some popular products to sell online:
Smartphone cases
Tablet cases
Other accessories, such as earpieces and hands-free accessories

#2. Kitchen Appliances
The kitchen is one of the most critical spaces in your home and where you spend most of your time. That's why it's so important to have a well-equipped kitchen that makes cooking easy and enjoyable.
Kitchen appliances are some of the most popular products on sites like Lazada and Shopee Malaysia. Since the Covid-19 pandemic, many men and women have started to cook at home so the target audience for kitchen appliances has grown since 2020. Most working adults also prefer using appliances like air fryers and pressure cookers to make cooking fast and easy.
Here are five types of kitchen appliances that make great choices if you want to make money from selling online:
Air fryers
Ovens
Knifes
Chopping boards
Storage cabinets
#3. Baby Diapers
Diapers are one of the most popular consumer products in Malaysia. This essential childcare product is bought by parents on a regular basis. Since there are many sellers that have diapers as part of their products, new sellers should focus on providing good customer experience and a competitive pricing strategy. This can help the business earn a steady flow of income.
There are many baby diaper brands in Malaysia that you can engage with, such as:
Huggies
Pampers
MamyPoko
Drypers
PetPet
Applecrumby
Offspring
#4. Skincare And Personal Care Products
Skincare and personal health products make up a huge chunk of the e-commerce industry. If you plan to start an online business, this is a popular product choice for most sellers. Both men and women need skincare and personal care products so the target market is large for this niche.
In Malaysia, the most popular skincare products include:
Face masks
Facial serums
Makeup removers
Lotions
Beauty tools
It's important to note that there are many businesses set up for this market so it's best to find ways to set your products apart from the competition. You can garner better reach and attention with a proper marketing strategy.
#5. Children Toys
Source: Lazada
Children's toys are always in demand and you can sell them on multiple e-commerce platforms to increase sales. Work on interesting product placements, competitive prices and good customer service to ensure you retain the buyers. Target working parents who are too busy to walk-in to physical stores. Working parents would prefer the convenience of having the toys shipped to their home.
Here's how to start an online business selling toys in Malaysia:
Search for a local or international distributor (such as China).
Create a list of products that are in demand in Malaysia, along with the cost price of each of them.
Ship your products with proper packing materials and use a reliable delivery provider. If you are thinking about starting your business, consider Ninja Van for your delivery needs.
8 Steps To Start An Online Business In Malaysia 2023 (Beginner-Friendly Guide)
Market research: Conduct thorough market research to understand the demand, competition and target audience. Then, please make sure to tailor your product offerings accordingly.
Business plan: Develop a comprehensive business plan that lists your goals for your eCommerce company, strategies for meeting those goals, and financial projections based on those strategies.
Setting up your business: The requirements for registering a company in Malaysia vary depending on size and type. You should contact the Companies Commission of Malaysia (SSM) to find out what you need when setting up your company.
Narrow down your focus: If you sell shoes online and find that many of your customers are first-time buyers, consider selling branded footwear or clothing.
Secure suppliers: Establish relationships with reliable suppliers who provide quality products at competitive prices. Consider local and international options to ensure a diverse product line.
Social media marketing: Create a solid online presence on platforms like Facebook, Instagram and Twitter. Use paid advertising, content marketing and email marketing to attract customers, then engage them with relevant information about your product or service.
Customer support: Empower your customers to feel secure doing business with you by providing excellent customer service, fast response to inquiries, and a clear return/refund policy.
Analyse performance: Monitor your eCommerce store's progress by reviewing analytics to spot areas of improvement. Use this data across all channels—including search engines, social media, and keyword advertising platforms—to optimise strategies and maximise revenue.
Conclusion
We hope you find many gems in this article to help you find the best products to sell online in Malaysia. Apart from the five options above, many other products sell well online. All you need to do is find one or more products you are passionately interested in. After all, your online business can only thrive when you are fully committed and interested in your business.